Videos are the consumers' favorite type of content and will account for 82% of all traffic by 2021. On top of that, most marketers agree that videos have shown a positive ROI on their marketing efforts.
They are a goldmine for your SaaS company and can help you supercharge your sales.
In this article, you'll discover the 7 best video types to run in 2021. You'll also learn about one little secret tip that will make you stand out among other companies.
#1 Product Demo
Your leads may not see exactly how using your software would improve their lives.
Maybe it's a lack of knowledge or they have never used similar software you offer before. Either way, you should fix that by providing them with a demo video.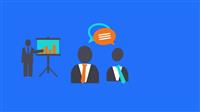 There are three best practices to follow when crafting a demo video.
Describe the product – don't expect that readers know about your product. In fact, do the opposite and explain everything.
Provide a solution – leads concentrate on how can a product help them, not what it does. Make sure to provide them with the benefits, not boring features.
Don't forget about the CTA – show your audience where to click to order.
Following these three above will make your demo videos better than most Saas companies. But how will you create them?
Shooting your monitor with an iPhone is not a great idea…
Instead, you should look for screencasting software and make it look professional. One of the best software to use is Camtasia. But there are also other more powerful solutions. (you can check the whole list here.)

And what are the results of using demo videos?
83% of people agree that a demo video helps them in making a buying decision. You can expect a lot of sales, conversions, and happy customers coming your way.
#2 How-To Videos
We all love how-tos – they are the most popular type of videos on YouTube.
That's because we have an insatiable appetite for learning. It's in our genes, it's who we are. You should use that to your advantage and generate tons of new leads.
How-tos will help you build brand awareness and establish your business as an authority.

There are a lot of how-tos on the Internet, though. Standing out can be extremely difficult. However, following the tips below can make it easier to outperform your competitors and help you make better how-tos.
More how, less why –  leads know why they want to do a certain task and don't care about why. They just want to know how to do it. Be sure to concentrate on how.
Make it super simple – simplify everything as much as possible. An easy way to accomplish that is to imagine that you're explaining a problem to a 6 year old.
Make it fun – don't bore your customers with tons of information. Instead, make your videos engaging, short, and fun.
You can also use how-tos to position your product as a fix to the customers' problem. That's exactly what Adobe does with its videos and products

It's also critical to follow it up with mid and bottom of the funnel techniques to make a sale. (here is a great resource to learn more about it.)
Start using how-tos properly, build better brand awareness and generate more leads.
#3 Testimonial Video
Social proof is another great way to add a little more credibility into your offer.
On top of that, testimonial videos will also help your customer imagine using the product which makes them more likely to buy. Of course, that's only true if you know how to use them properly.
For that, we have prepared three tips.
Feature different target audience – make it as easy as possible for customers to imagine using the product. Do that by featuring a variety of customers – different genders, age, interests, etc.
Focus on the journey – don't just showcase happy customers having your product. Talk about the whole customer journey. Include things like struggles in the past and how the product helped your customers live a better life.
Show specific results – tell your leads exactly how the product helped your customers. Be specific, include numbers and real-time examples
An excellent example of a testimonial video featuring these tips comes from Slack It has real-time examples, shows specific results and features a variety of people.
You should definitely get inspired and craft something similar for your Saas company
#4 Social Videos
Social media is one of the most crowded places online, featuring over 3.96 billion users.

This also makes it one of the best places to reach new customers, promote your products, and generate leads. Standing out and being unique is difficult though. Here are three tips that can make it easier.
Keep your videos short & sweet – don't overwhelm your audience. Keep your videos only up to 2 minutes long and drive better results.
Include captions – not everyone speaks English well, but that shouldn't present a problem. Include captions and make your videos more accessible.
Focus on the story – storytelling is one of the most powerful marketing ways. Use it to your advantage and create irresistible videos.
Social videos are also very dependent on the social media platform you use and niche.

Aside from that, there is also one crucial thing you should follow. You must make your social videos part of your social media marketing strategy. This is probably the toughest part with these videos…
You must align it with your social media ads, retargeting, promotions, etc.

This is beyond the scope of this article though. But you should make sure to learn more about it. And the best way to learn more about that is by using online courses. (check some of the best online course platforms here.)
They will help you crush your social media video game in no time and drive solid results.
#5 Promo Video
Promos are great, but there is one thing you should realize.
You don't always have to promote your products. Instead, it's ideal to help other companies promote their products as affiliate marketing from time to time. Ideally these products should make a nice addition to yours.
And to make your promo videos better, here are the three tips to follow.
Include a coupon – give them a better deal through discounts and coupons.
Show benefits – let your customers know how using these products together with yours can make their lives better.
Make it exclusive – position these products as something special that will separate your customers from others.
Similarly to social media, there is a lot more to affiliate marketing videos.

You must show it to the right audience, make it work with your overall strategy, and align it with your business goals. (you can learn that and so much more here.)
Promos are a great way to boost sales and build new partnerships with other companies.
#6 Expert Interviews
Lack of trust is the most common cause of not converting.
An easy way to spark in more credibility is to invite an expert over and interview them, show them your product and make people sure it's the right solution for them.

There are three tips to follow with an expert interview video.
Choose a well-known person – make sure your audience knows the person, or your efforts are useless
Invite an influencer – it doesn't have to be an expert, just an influencer related to your niche. Most people trust influencers more than their friends.
Answer customers' questions – pick the most common questions your audience has and discuss them with the expert. It will make your video super useful and engaging.
Interview videos are a great way to connect your audience with industry experts, establish authority and answer their most common questions.
They'll make your Saas company more likeable and increase your conversions.
#7 Company Video
Customers no longer look only at the price.
In fact, we are more interested in a higher purpose behind every purchase we make. That includes things such as helping the planet, donating to a charity, or making a difference.

And the best way to present these values to your customers is through a company video.
It's basically a video capturing your brand's mission, values, and a higher purpose. When recording a video like that, you should pay attention to these three things.
Storytelling – capture your company's story and evoke emotions in your customers.
Music – include high-quality music to set the right atmosphere
Focus on positives – don't put down other companies, nor be negative. Keep everything positive and stay optimistic
Show your customers a higher purpose behind their purchase, help others and get more sales at the same time.
Company videos are one of the best ways to separate yourself from other businesses.
BONUS TIP: Combine Videos With Articles
Videos are great, but some people would still rather read a blog post.
And that's why you should be combining these two together to reach everyone and allow your customers to consume content in their preferred way.
An easy way to accomplish that is to include videos in your written content.
You can see an excellent example of that by IncomeInsider's bitcoin guide. They have written a fine piece of content about bitcoins. But if you would rather watch a video, you just need to scroll down and there you have it.

It's a genius strategy to attract more audience and reach everyone.
Conclusion
Videos are the consumers' favorite type of content – they are the future. You should consider including them in your Saas company video marketing strategy  to drive better results, boost sales and increase conversions.
Today, we've talked about the 7 best video types to use. Be sure to use them in your marketing strategy,
Also, make sure that everything works smoothly and without any errors and bugs – that can only scare away potential customers. For that, you'll need a solid video hosting site. (here is a list of the top solutions.)
Follow the advice above, maximise your sales, and achieve the results you desire.
Originally published on May 15th, 2021
, updated on May 18th, 2021