Having a website is a necessity for any business in today's world. But interacting visitors can be challenging without using multimedia. Cincopa introduces one of the smartest ways to boost interaction on your website: pinned galleries.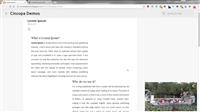 It's not a secret that people prefer visual information to text. Videos, slideshow galleries, and podcasts presented on your web page will help to highlight important facts and calls-to-action, which will better motivate visitors to explore your website and come back for more.
Cincopa allows you to pin any gallery with video, slideshows or podcasts to one of the corners of the screen. The most exciting part of it is that your gallery will remain fixed to a chosen position even when a user scrolls the page. This is what creates a long-lasting multimedia experience! You can also control margins so that your content is fitted properly.
Here are a few ideas you might find useful when deciding which content to pin on your website:
➔    What people need to know about your brand
Present your brand in an introductory video about your company showing people who you are and which products or services you offer. You can share some behind-the-scenes, demonstrate your corporate culture, and prove that your business is open to people, which will definitely give you considerable advantages over your competitors.
➔    Frequently asked questions
Create a slideshow containing the most demanded facts and answers to frequently asked questions. By doing that, you can reduce the flow of complaints and support queries considerably. A pinned gallery will help visitors to understand how your products or services work and explain emerging questions immediately.
➔    Your new products and hot offers
Pinning hot deals, special offers or your new products can make a huge boost to your sales. Create a special pinned gallery with Cincopa in a few easy steps, embed it to your website, and you'll achieve a much higher ratio of reactions to your offers.
➔    Start podcasting
Podcasting is one of the hottest marketing trends of the current decade. If your business doesn't have a podcast yet, you should definitely start one. Podcasts are preferred by numerous Internet users because they allow to read and to listen at the same time. Cincopa provides everything you need for hosting and publishing your podcast – simply pin it to your page and engage your audience at the highest level.
How to Pin a gallery?
You can easily pin any gallery (video, podcast, or slideshow) to the desired corner of a web page and make your content visible during the entire website session. Control margin and customize user experience in the way you want.
Go to Cincopa gallery wizard;
Find the MISC section and set the position of your gallery;
Specify margins if necessary;
Upload assets;
Grab the embed code and paste it to your web page.
Originally published on September 20th, 2017
, updated on April 28th, 2019