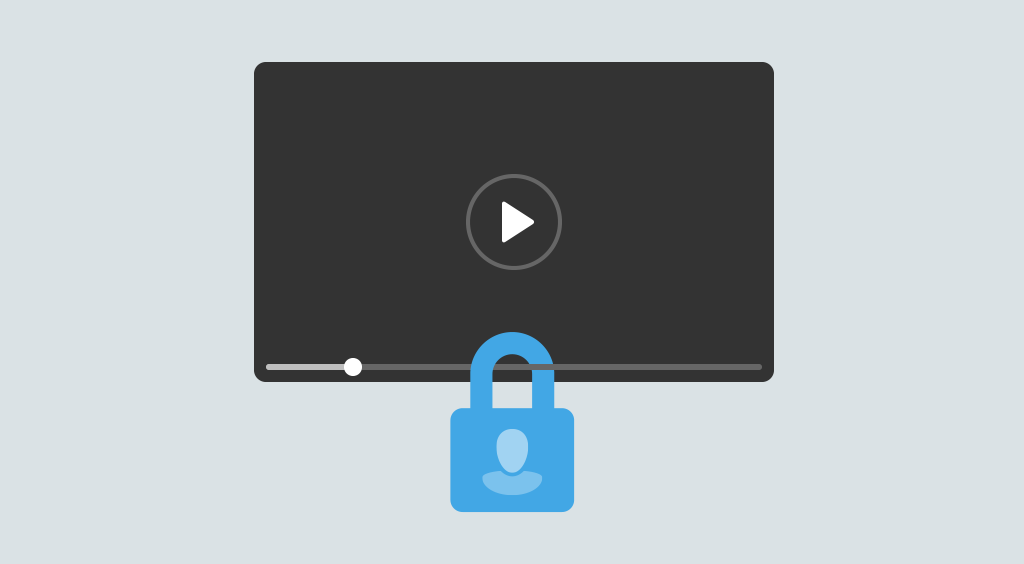 Intrigue Your Audience with Gated Video and Collect Leads
---
Getting qualified leads is critical to any type of business, anytime. One of the most effective lead generation tactics gaining popularity today is called 'gated video'. In other words, gating makes your online video content available for watching after registration. Non-registered users are only allowed to see a small introductory part of a video, and those who would like to continue watching have to submit their contact information in a pop-up form. The degree of gating may vary depending on your goals, which means you can apply a fully non-skippable gating model or make your video semi-gated by letting viewers skip the lead generation form. In general, gated video allows is able to convert a lot more views into leads than open video, which is crucial when you need to obtain personal contacts from the best-motivated part of your audience for building real business prospects.
When gated videos make sense
There's no reason to gate all your videos, of course. In fact, the largest portion of your online video content may be open in order to drive engagement on your website, motivate viewers to share your content, generate backlinks, and increase your website's SEO strengths.
Gated comes into play when conversions are more valuable to you than potential audience reach. In fact, you can combine open video, semi-gated video, and fully gated video on the same website, while each type of content pursuits its own goal.
Essential online video tools for gated content
When adding video to your marketing mix, you want everything to work as flawlessly as possible. Hand-coding a custom online video player for your website that supports gating may be too expensive and time-consuming. This is not appropriate when you want to achieve immediate results.
You can save considerable costs and effort by taking advantage of a professional video hosting and management platform like Cincopa providing ready-to-use video players for websites along with advanced marketing tools.
Lead Generator is a powerful marketing tool making online video work for business lead generation. It shows a pop-up form above the video at the selected spot on a video timeline. The most typical fields to include in a lead generation form are name, email, and submit button. However, you're free to create your own template and include more specific fields, such as cell number, LinkedIn account, etc. With Cincopa, you may add an optional 'skip' button to make submitting the form non-mandatory.
The main benefits of Lead Generator:
You can generate traffic from whichever source where your video is placed. It can be your own website, partner websites, social networks, etc.
Personal details can be used for retargeting and remarketing.
When video viewers share their contact information, this means you get the permission to send them a business message.
Call-to-action helps marketers to encourage video viewers to undertake actions leading to conversions. You may set various marketing goals, for example, sign-up for a newsletter, visit a landing page, purchase a product, or watch another video. Similar to a lead generation form, a call-to-action may show up at any desired moment of playback.
Video Analytics is particularly important for successful lead generation. It tracks all viewing activity and aligns it with personal data, such as email addresses. Thus, you can figure out how many viewers became leads, trace their following activities, and access detailed insights about every specific lead. Cincopa Video Analytics allows you to measure engagement, first and last visit dates, total view count, videos that have been watched, individual details like IP, operating system, and device type.
Go ahead, try gating your videos using advanced video tools and get prepared for an increased leads flow. We look forward to hearing from you, which form of gated video you found more effective for your marketing goals: skippable or non-skippable?
Share your comments!
Thank you! Any other feedback?