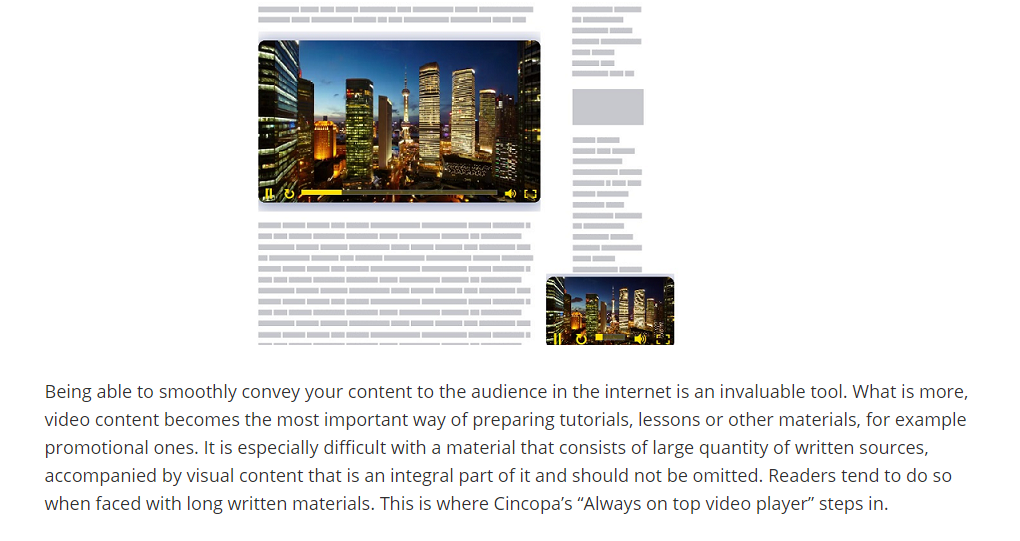 Cincopa's always on top video player
---

Scroll down to see how it works
GRAB READER'S FOCUS
Receiver of your content will be able to watch digital content that you prepared for him, while reading written material, with our new video player. This is a very important function for all of those that have limited amount of time to get to know material that was prepared for them, or tend to skip it, because it makes them stop reading. Those people very rarely come back to the video prepared for them, because they forget about it or just don't want to spend more time on it. Having a small window with video played for them, while they are reading your content not only aid their experience in learning your material, but makes sure, that they seen the video, while reading further parts of the text on your website.
ALL THE FEATURES YOU NEED WITH ONE CLICK
This is why you should try out video player prepared by Cincopa. You can make control bar visible or hidden and set an auto start option. Size of the video window is fully customizable, as well as its position on the screen. The video player will follow your readers on their path through your written text, already playing or reminding them, that there is a video material prepared that they should watch.
Apart from the video size, the exact placement of it can also be specified. This option is very important in case of unusual placement of materials on your website.
You can also set your digital content to play in Facebook mode style. This means that your video will automatically start when a certain point in the text is reached, and will stop playing when the point is out of focus. This useful option means, that the video can precisely accompany the text, making your tutorials precise and full.
Whether you are a tutor or a businessman, our "Always on top video player" is something that will surely help illustrating your written content without unnecessary pauses and keep viewer's attention for longer.
We're excited about this new feature release and hope you will be, too. Check it out and let us know what you think.
Meanwhile, happy Cincopa!
Thank you! Any other feedback?