Your website is the face of your business. And a successful business completely relies on trust-based relationships with its clients. When choosing between competitors offering similar products or services the clients are most likely to give preference to the brand which is more human-centric and open to communication. One of the best ideas for businesses in terms of making their web presence more 'human' is creating a visually appealing 'Meet the Team' page on the website. There can be no better place to present the team management, to highlight necessary information about the core team players, thus making their personal achievements and experience work for the brand's success.
'Meet the Team Blast' skin by Cincopa: ready-to-go web galleries for sites built in minutes
In the past, design and development of a rich web gallery required involving a considerable amount of additional time and costs. Making it display properly across the huge variety of web browsers and devices used to be even a bigger challenge.
The good news is that now it is possible to build and publish a professionally looking team gallery in a matter of minutes with no coding at all. With the new Meet the Team Blast skin by Cincopa, even non-technical people can construct fully functional and easily customizable showcase pages with embedded images and videos without the need to involve web design specialists.
Here's how easily it works:
1) Go to Meet the Team Blast skin.
2) Add your title and description for the gallery; customize the layout according to your needs by setting required element sizes, pagination, text and background color, and more. You can enable users to share embedded visuals via social networks and even download the entire web page.
3) Upload files to be displayed in the gallery. Content added will be safely hosted by Cincopa.
4) Copy the embed code and paste it on the desired web page. It's easy to integrate the gallery with both custom-built and CMS-based websites, as well as to share the direct link to it via email, messenger, and social networks.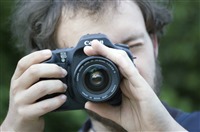 In case you don't have a Cincopa account yet, you can create one right away by using an email address or a social profile.
Meet the Team Blast skin comes with fully responsive layout. This means that the web gallery is displayed perfectly in all screen formats, be it a desktop PC, a laptop, a tablet or a smartphone. More to say, it is optimized for touch interface that guarantees a flawless experience for mobile device users.
With Meet the Team Blast, you must not worry about storage for the visuals, advanced settings, like editing the main CSS file and Google Analytics integration, are available for everyone who would like to take advantage of the extended functionality.
With all its powerful features, Meet the Team Blast skin is a truly exceptional solution for businesses and organizations of all kinds seeking to establish a much more effective web presence.
We're excited about this new skin. Now it's your turn to try!
Originally published on December 10th, 2015
, updated on March 17th, 2019