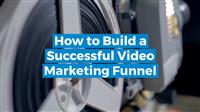 Many successful businesses spend time building comprehensive marketing funnels. The goal is to attract prospects and keep them moving down the funnel, offering different types of content at each stage. Prospects go through the funnel from initial awareness all the way through to conversion.
Video content is one of the most engaging and shareable ways to lead prospects through each stage of the marketing funnel.
Putting the right video in front of the right person at the right time requires a solid understanding of prospective buyers and the types of videos that work best at each stage of the sales funnel.
What is a marketing funnel?
A funnel comprehensively guides a customer all the way through the buyer's journey. When you think of a funnel, you normally visualize an object that's wide at the top and narrow at the bottom. It is used for guiding liquid or another substance into a small opening.
A marketing funnel works in a similar way:
Leads pour into your funnel and a smaller number come out of the other end, having purchased your product/service. You may start off with a thousand leads at the top, and that number keeps decreasing, possibly resulting in 10 customers at the bottom.
Why set up a funnel?
When you clearly understand what you want your prospects to do next, it's much easier to get them to do it. A funnel can be long and complex, so it's important to keep your end goal in mind. From the top of the sales funnel all the way to the end of it, 76% of marketers say that it has substantially helped them increase their traffic.

Instead of guesswork and off-the-cuff attempts, a funnel provides intentional, deliberate progress towards a defined goal. If you try to sell to prospects immediately, they are highly likely to say no.
If you sell to them once you've established trust, you have a much higher likelihood of them buying your product/service. When they've purchased once, they're much more likely to buy again.
Are all funnels the same?
All types of businesses, from eCommerce and SaaS to retail and support services, use sales funnels. People tend to follow a similar path when deciding what to buy.
Of course, not all funnels look the same.

How your funnel will look depends on the way your business operates. For example, the consideration stage for buying a t-shirt will obviously be much shorter than for buying a car. The number of activities in each stage and approach to each stage may vary from company to company, but the overall structure is similar.
If you want to sell an ebook, your funnel may look a little different than if you're promoting a physical product. You may write a blog post that touches on the topic of your ebook. You might want to create a free-download landing page where interested parties can download and read the first chapter. If someone opts  for the free download, you can use the email address they provide to try and convince them to purchase the full ebook.
Customers don't always proceed through the funnel in a linear way either. Despite this, a funnel model can be useful when planning a multi-stage marketing process.

Different funnel models
Questions have been raised regarding the effectiveness of traditional funnel models. Some marketers were ready to announce its death and replace it with the term "the buyer's journey". Today, marketers tend to envision the marketing funnel as more of a bow-tie than a funnel; wide at one end, thin in the middle and widening out again.
Once prospects have gone through the wider stages of the funnel, having bought a product at the narrow end, the funnel needs to open up again and focus on building customer loyalty. Research shows that the longer customers continue to relate to you, the more likely they are to keep buying from you.
As per a study, only 23% of the consumers stated to have a relationship with a brand. A good retention program after a sale can boost the customer-brand relationship.
Four stages of the funnel
A marketing funnel should have the following  4 stages:
Awareness – your prospects become aware of a problem and begin researching it.
Consideration – your prospects have a clear idea of the problem and begin analyzing the alternatives available to address it.
Conversion – your prospects have made up their minds: You offer the best solution to their problem.
Loyalty and advocacy – you continue to build trust amongst your customers, and they continue to support you by telling others about your brand.

Micro-funnels
Micro-funnels exist at every point in the funnel where you need someone to agree to something online. Adding traffic sources, emails and other connecting elements allows future customers to reach your end-goal in a logical, efficient process. They consist of:
A landing page: Leads arriving on your landing page can either make a purchase or opt into the next phase of your funnel.
A leadbox or purchase point: A simple form allows visitors to sign up for your offer and give you contact information.
A thank you page: Thanking people for successfully purchasing your service or product offers you the opportunity to ask them to take another step, right away. For instance, you can ask them to share the offer on social media.

Understand your target audience
To appeal to your audience with powerful video content, you have to understand them first. The state of mind of your prospects at each stage of the journey will determine what videos you offer them. Videos must speak to their challenges, need, and wants.
When you write your video script, you want to have a clear image of the person you're addressing right in front of you. Striking a conversational tone is important, and it's easier to do this if you imagine you're sitting chatting to the person.
Create a marketing persona
A marketing persona is a fictional description of someone in your target audience that helps you to target your marketing. When creating a persona, it's easiest to start with demographics like age, gender, education, and marital status.
Enrich your information
Talk to your audience, conduct interviews, surveys and ask them about their concerns and goals. If you record their responses, this gives you excellent material to use in video scripts.
Seek out insights regarding your audience
With a deeper understanding of what drives your target audience, you can create videos that focus on specific challenges. With these insights, you don't have to guess what they want to hear. You can custom-build a funnel to guide them rather than rely on your leads to navigate the funnel themselves.

The best types of videos for each stage
Using appropriate videos at each stage of the funnel keeps your leads moving along. Some videos are suitable for more than one stage of the marketing funnel, but others suit one stage, exclusively.
Stage 1: Awareness
Goal: Show the value of your product/service to address a need or problem. Be helpful and provide educational content. Create a good first impression by being upfront, professional and informative.
Do: Make it simple for prospects to know who you are, what you do, and what you stand for. Make sure that people who discover your short awareness videos through search engines and social media are led towards related, relevant content hosted on your website.
Don't: Try to sell or give specific product information.
To fully understand this phase, ask yourself these questions:
What challenges or problems are my prospects facing?
How do they educate themselves to find solutions?
What consequences do they face if they decide to do nothing?
Strangers who do not know your brand have just become aware of your existence. How do you establish yourself as a trustworthy, thought leader in your industry? You need to deliver educational videos, focused on giving information that will make their lives easier and offer real value to them.
You'll want to show leads:
Explainer videos -Explain how your product/service works. Research shows that 95% of people have watched an explainer video. These videos provide a way to break down difficult concepts. Animated videos are simple to make and easy to watch.
Educational videos – Give your audience advice about a specific topic within your business niche.
Brand value videos – Create fun content showcasing company culture. Show why prospects should care about you and why you do what you do. For instance, you could create a short video showcasing your quirky support staff. Give your prospects a sense that you share their values.
Inspirational videos – A day-in-the-life-style walkthrough video is a great way to inspire viewers and introduce them to your brand.
Video documentaries – Focus on topics your audience cares about.
Call-to-action – Every video in your funnel should be optimized with a CTA. A CTA used in an awareness video should prompt viewers to watch another video, start a free trial, etc.
View count
At this stage, you're casting a wide net and aiming for maximum exposure. Video view count shows you how many people are watching your videos.

How Volvo excels at awareness stage videos
Brand videos: The Epic Split which features a Van Damme stunt and an Enya soundtrack is a powerful example of a video created to thrill viewers and create brand awareness. Another is The Hamster Stunt which shows a hamster at the wheel of a truck, driving through a dangerous quarry. These videos are stunningly produced and offer great entertainment.
Educational videos: Volvo has a series of videos giving answers to common issues, such as how to save fuel. This content is easily found searched for on Google.
Video documentaries: Volvo has produced a series of short documentaries. In these, two truckers share their love of trucking and how it has effected their lives. They use documentaries like this to create a sense of community.

Stage 2: Consideration
Goal: To introduce your product or services to prospects and nurture them with targeted content.
Do: Aim for a combination of practical content and that which displays social proof.
Don't: Push sales or introduce irrelevant content.
At this stage, your prospects know who you are, but they want to know more. Video is the perfect way to empower them to make better decisions. If you produce the right ones, they'll end up clicking from video to video, researching at their own pace and find useful, understandable, relevant information.
Think about the process you go through when wanting to buy a pair of shoes. You go to the shelves and start looking. If a pushy salesperson approaches you at this stage, it will put you off.
You want time to browse through different styles, colors, and prices. In the same manner, you want to give your prospects the opportunity to explore.

You'll want to show leads:
Product demos: Show your product/service in action.
Testimonials: Show how other people benefit from using your products/services.
Case studies: Give an in-depth look at how your product/service helped someone.
Culture videos: A virtual tour is a great way to transport a prospect into your world and let prospects know more about your business and its culture.
Comparison videos: These go a long way towards building brand credibility and showcase an impressive level of confidence in your product.
User-generated content: Create a buzz through emotional story-telling generated by satisfied customers.

Time spent watching
If users have watched a video right to the end, this indicates strong interest, and you can send them to more targeted content. If you're providing viewers with value, they're likely to continue watching.  Good video hosting platforms come equipped with robust analytics that show how much time people spend watching your videos.
How Slack excels at consideration stage videos
Slack produced a quirky testimonial that made viewers wish they had a team just so they could start using Slack. A person stuck in the middle of the funnel may just be influenced to move further down after seeing this unique video: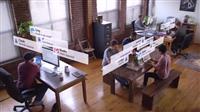 Stage 3: Conversion
Goal: To convince your prospect to buy.
Do: Talk about the benefits of your product/service. Create a sense of urgency to compel prospects to buy. Offer discounts and use promotions.
Don't: overwhelm prospects with sales calls.
Congratulations, your prospects have finally arrived at the decision stage!
They know who you are, they know something about your products/services, but haven't yet made a final decision to choose you over your competitors.
Videos at this stage are all about answering the questions your prospects have about your product or service. Videos should make viewers feel confident and comfortable about your ability to meet their needs.
Bringing up the shoe store analogy once again, this is the point at which you have switched from casual browsing and intend to buy. You want to ask a salesperson some specific questions, such as whether the store has a certain pair of shoes in another color. You want answers to help you choose one pair of shoes over another.
Some questions to ask at this stage:
What benefit of your product are prospects likely to value the most?
What is it about your product/service that could be giving them doubts?
If you can show your prospects what's superior about your products/services to those of your competitors and address their last doubts, you can remove any barriers to making a purchase.
Prospects need to trust your brand in order to make that final decision. Emotion can strongly influence their decision-making. Videos at this stage should evoke emotion.

You'll want to show leads:
Personalized videos: Send prospective customers videos that look as though they were made specifically for them. Perhaps these videos use their names and the exact model they were researching.
FAQ videos: Address any remaining doubts and fears providing a barrier to purchase.
Before-and-after videos: These work well in industries like weight loss, fitness, interior design, and lawn care. They can also be used to show how much easier someone's life has become after acquiring your product/service.
Webinars: Host webinars on your website, gate them and use analytics to find out how viewers watch and engage.
At this stage, email is a good way to get videos, especially personalized videos, in front of prospects. It gives your customers the sense that you've built a relationship with them.
Use CTAs for purchase-related offers and discounts.

Stage 4: Customer loyalty and advocacy
Goal: To keep retain your customers by giving them awesome service and to turn brand advocates.
Do: Give them helpful, relevant information. Delight them with service, get feedback and use it to improve services.
Don't: Forget about your customers once they've made a purchase.
A plan to develop customer loyalty is necessary, or you may lose customers and waste your prior marketing efforts.
According to Nielsen, 84% of people trust the recommendations of friends and family over marketing campaigns.
That's why you can't ignore people after they've made a purchase. The advocacy stage of the funnel is when your efforts really start to scale. Your customers start telling others about you and showing they're proud of their relationship with you on social media.

One of the most important ways to keep your customers is by giving them proper support. Many customers stop doing business with a company because they experience poor customer service. If you use video to do this, customers have a personal face and voice they can identify with.
You'll want to show customers:
Tips, tricks and hacks videos: Share tips and tricks that make your customers feel they have access to exclusive knowledge.
New product videos: Give loyal customers a sneak peek at new products.
'Changes' videos: If you're adding any new features, changing policies, etc. create customer awareness with a video.
Customer support video shorts: Humanize support with a face and a voice.
Thank you videos: Gratitude encourages warmth in return.

How will your leads find your videos?
At each stage of the funnel, you need to figure out how to distribute your video content to reach your target audience. You want to find out where your potential customers are to be found online or where they might look for certain information.
Top of the funnel
At the top of the funnel, posting videos on social media can help you reach an audience.  Facebook, Instagram and Twitter are a good place to start. Each social media platform is suitable for different types and lengths of videos.
Twitter, for instance, is suitable for short 45-second videos. Longer videos can be posted on YouTube. You can also consider LinkedIn and Snapchat, depending on the nature of your business.
Add video to your landing pages for key search terms, and properly tag and caption them, so they rank higher in Google search results. This information enables Google to rank them, and people will find them through organic search.
Your traffic needs to be directed to a focused landing page… which leads to the next step in the funnel …. and the next step …. right down to your end-goal. If leads land on your homepage or a product-inventory page, they may not have a clear opportunity for engagement.
Middle of the funnel
By the time prospects reach the middle of the funnel, you're likely to have captured their contact information. You'll be able to share video content with them via email and your website. Use middle of the funnel video in:
Lead nurturing emails
PPC campaigns
On social media
Website pages.
Landing pages
Product pages
Bottom of the funnel
At this stage, your leads are likely to be speaking directly to your sales team. Use videos in:
Direct emails from salespeople
Bottom of funnel landing pages
Specific product and website pages
Sales presentations.
If you're hosting your videos on YouTube or Facebook, you may be reaching a wide audience. Your view count may be high, but you're discovering that this does not necessarily mean that viewers become customers.
Relying on YouTube is challenging. There are  limited video player options and viewers aren't naturally driven to your website. To maximize SEO value for your own website and utilize valuable analytics, a video hosting platform will be necessary. You can even customize your video player to suit your brand with the right colors and your logo.
The analytics such platforms provide offer you a way to find out much more about customer behavior and adjust your market strategy accordingly. If you find that people stop watching your video after only 15 seconds or so, you need to go back to the drawing board.

Refine your strategies and measure your success
How do you know whether your video marketing funnel is working? Keep an eye on these metrics to find out:
Video shares, views, and comments on social media.
Average time spent watching a video.
Percentage of viewers who purchase.
Percentage of cross-sells and upsells.
You can check out our video engagement guide for even more details.
Review these metrics, and if there's something that's not working, you will need to make some adjustments.

Final thoughts
Starting with the examples of videos mentioned above, you will be able to create an effective video marketing funnel. Always keep your end goal and your target audience in mind to help you shape your video content. Once you've established a funnel, it becomes easier to find fresh ideas to attract new customers and retain existing ones. Using videos throughout your funnel makes it easier for buyers to move down the path to purchase. Videos create a richer experience, more brand loyalty and a higher chance of turning happy customers into advocates for your brand.
Analyze your video's performance and create content that your audience loves
Get metrics like total views, repeat views, drop-off point, heat-map, location, and much more
Are you getting the most out of each stage of your funnel?
Generate more leads and convert better with Cincopa
Originally published on December 27th, 2016
, updated on April 1st, 2022