Are you tired of that default thumbnail image on your Cincopa Videos ? Do you want to display an awesome custom image instead of that drab and sterile avatar? No worries. It's easy.
A video thumbnail is especially helpful because it offers your viewers a first preview of your video content. It is the first impression they have of your video, so it would be best to make it appealing. Uploading a video is accessible to anyone, but making it enticing to potential users or clients is a bit of a challenge. Videos need to have everything working for them to have a real impact on viewers.
Here's how to change your video thumbnail on Cincopa:
Go to My Media page.

Upload or click on the corresponding video you'd like to change.
A pop-up with video properties will open.
Here you have two options:
Either click on Click to set as thumb while playing video.
Or fill in the by Seconds field manually for the thumbnail you would like to display and click Set as thumbnail.

Once the thumbnail is uploaded, don't forget to click the Save button.
NOTE:  The same thumbnail image will appear wherever  this video appears in your Cincopa video galleries.
Setting thumbnails for your videos can also be done on Text&Reorder > step 4 in creating the gallery: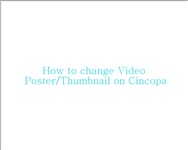 If you prefer, you can also upload a different external thumbnail for your video.
Here's how:
 Create your Cincopa gallery.
 Choose a video skin.
 Upload files you need to be display in your gallery.
On Text&Reorder > step 4  make sure that there is an image file before each video file.
Click Continue button and your gallery is ready to use with images on your video playlist.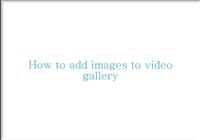 Originally published on January 8th, 2015
, updated on March 17th, 2019