Recording yourself giving a presentation can have many benefits. You can record video as you present and edit it then make it available on demand. There are various platforms that make it easy to create stunning presentations. When choosing a platform, you should consider your budget, ease of use, and specific features you may need such as editing capabilities and analytics.
Screen recording platforms come in many shapes and sizes with different features available for specific needs. If you're someone who is looking to record audio only, a professional podcasting and sound recording platform would work best for you to fine tune your sound settings. If you're looking for screen recording capabilities and PowerPoint presentation recordings, you may want something that works well with your webcam, offers video download and other options to share directly from your desktop with your audience.
In this blog, we'll showcase the best presentation creating platforms, as well as great platforms for your recording process.

Presentation creating platforms
Some of the platforms and tools for creating presentations are very simple and others have more capabilities and features. The best one for you will depend on your needs and your budget. Here are some of the options available on the market today and loved by professionals worldwide.
Microsoft PowerPoint: It is easy to create a presentation using Microsoft PowerPoint. Microsoft PowerPoint presentation allows the ability to record and insert audio narration and uploading from your photos app with the timing of slides built into the software for a seamless presentation experience.
Zoom: This platform is widely used for video conferencing and it allows you to record presentations if you have a paid plan. It has features like screen sharing and you can include multiple participants in your recording.
Microsoft Teams: Similar to Zoom, Microsoft Teams allows you to record virtual meetings and presentations with a paid plan. You can also record audio and save presentations for viewing at a later stage.
Canva : Canva is a beginner-friendly design-app that allows you to create stunning presentations directly from your desktop.
Keynote: Keynote makes it easy to prepare presentations and comes included with most Apple devices. Apple Pencil is a useful tool on iPad to create diagrams that enhance your slides.
Reasons to record yourself presenting videos
There are many reasons why you may want to record yourself presenting.
If you're a marketer you can create and share how-to-videos, webinars, tutorials, and more for promotional purposes. This video content can increase engagement on social media channels and educate consumers. A talking-head video format can help you to give your brand a more personal, warm touch.
As a sales team member you can showcase product or service demonstrations in a personalized and memorable way that encourages customers to make a purchase.
As an HR executive you can record presentations and use them for many purposes like recruiting and onboarding new hires. They are also valuable in training current employees in areas like security and compliance.
If you are a member of a customer support team, creating how-to videos and step-by-step guides can be very helpful for customers.
Preparing for recording a presentation

Presentations are more than just a slide deck that is created for educational purposes. It should be engaging, and be able to tell a story right from the moment you hit start recording until you're finished.
You will need to consider your audience. Some background about the values and interests of your viewers can help you to understand how to engage them. You want them to find the content relevant.
Define the objective of your presentation. You need to specify what you want viewers to learn from it. This helps you to maintain your focus as you prepare your video content.
It's helpful to create an outline or script. Organize the content into logical sections and include an introduction, main points, and a conclusion. The introduction must be captivating to persuade viewers to continue watching. Your conclusion must summarize and reiterate your most important points.
Decide what visual aids you may need to enhance your message. If you decide to use slides, make sure the visuals are clear. Don't use too much text on slides as this can defeat their purpose. Make to add picture to your slides to keep it engaging.
Preparing yourself for video recordings

Practicing is vital if you want to record a video. It will help you to fine-tune your recording process to make sure you cover all the most important points in the time you have. Rehearse the transitions between sections or slides so they sound and are seamless. Practice making good eye contact and be aware of your speaking pace and tone. Try to eliminate hesitations, long pauses, filler words, etc. as they could be a distraction. Remember, you can always stop recording at any point to start again.
You should dress appropriately for your audience and the topic of your presentation.
Turn off notifications on your cell phone and computer. Tell those around you that you will be recording to minimize disruptions.
If you are going to record a video, you will need to test the technology you need to use. This includes your microphone, camera, and screen recording software.
Make sure your web camera is of high quality and not picking up distracting background movement.
It's important to choose a suitable location and adjust your audio settings. It should be quiet and the lighting must be good before you begin recording. Make sure the background is appropriate for your audience.
If you want to share additional resources, such as links or e-books, make sure they are readily available.
Using RecTrace to record yourself and presentations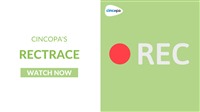 RecTrace is a video screen recorder for Chrome from Cincopa, a multimedia hosting company. The free screen recorder Chrome extension allows you to record presentations and share video.
Once you have installed Cincopa's free online screen recorder – RecTrace all you need to do is to click the icon at the top of the screen. You can record the current browser screen, or specific window capture and choose to appear on camera or only have your voice come through. Disable the computer's webcam if you only want your voice to be heard. All you have to do is click on the record button to start your video. After a short countdown, your recording begins and you can start your presentation.
When using RecTrace you can upload, save, and store your presentation video content for sharing publicly or privately with your audience.
Once you stop recording and publish your video, you have access to track the performance of your video content and get detailed insights into video data and their behavior.
You can use RecTrace even if you aren't a Cincopa user. Your video file is saved and uploaded to a feed and you receive a sharing page where you can access and share your video via a direct link.
Cincopa has all the features you need to make engaging videos. Try to add annotations, calls-to-action, video SEO, video chapters, and subtitles to make your personalized recordings more interactive.
RecTrace optimizes your recordings for playback on any device once you finish recording. The videos will work just as well on mobiles as on desktops.
Sharing your presentation recording
After making presentation recordings with RecTrace, you can review the final product and make any necessary edits before sharing them with your intended audience.
RecTrace uploads directly to Cincopa and you can embed the video content on a website or in a blog, share it in emails, or share it with colleagues and other account owners.
For marketing purposes, you can use RecTrace to create presentations that promote products and services. You can share presentations that showcase brand stories and solutions on social media and in emails. Collecting user-generated content from external and internal contributors can help you create a web page of customer stories and testimonials.
If you're in sales, you can send personalized videos to segmented prospects for a more personal, humanized approach to which they can open your Cincopage with your recording in a separate tab on their desktop.
As an HR professional, you can share recruitment videos on social media platforms. This will get the attention of young, tech-savvy individuals. You can upload and share personalized videos with new hires. You can also share internal training videos with current employees. Employees prefer watching videos to reading manuals. Compliance training can be more effective using video to cover important issues such as safety and emergency procedures.
As a customer support rep, you can record how-to videos and guides for customers and use them in the website FAQ or in the Help section to enable users to handle support issues faster and on their own.
Conclusion
Preparation is essential if you want to record a presentation successfully. Proper preparation makes you more confident in your delivery. There are various platforms you can use to record a presentation. You will need to choose one that suits your needs, budget, and preferences. Remember to take your time with recordings, pause when needed, display visually appealing content, and create content that people will love to watch! Happy Recording!

Originally published on October 12th, 2023