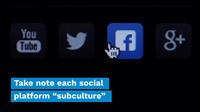 A social video is a video that you share via social networks, such as Instagram, Facebook, Twitter, and YouTube. Each social media platform is different, plays by its own rules, and serves a different purpose.
You need to know how to use each platform if you want to engage with people. Producing that perfect social video is possible if you keep the following factors in mind.

Keep length in mind
When it comes to getting your video shared across social media platforms, shorter is usually better. Many studies show that engagement falls off after two minutes.
The length of your video will differ depending on what it is about. It's best to aim for less than two minutes and stick to 60 seconds if you can.
Twitter limits videos to 30 seconds and Instagram to 60 seconds. Videos on Facebook should not be more than two minutes long.
"Hook your viewers in the first few seconds of your video to make sure they keep watching. Studies show that viewers will determine within the first 2-3 seconds whether or not the video content is relevant to them."
So how do you hook them? Speak directly to them. Let them know you have the answer to a question. Give them enough incentive in those first few minutes to keep them watching.
Other ways to hook them straight away is by using awesome animation, bright colors or an engaging storyline.
Don't rule out long videos altogether but if you do decide to go long, you must have a very good reason.
Pay attention to each platform specs
If you want to spread your message to a wide audience, you should be on multiple platforms. But you can't apply a one-size-fits-all strategy.

Each platform has its own specifications. If you don't follow the media specs, your videos won't display correctly and people are less likely to watch them.
Instagram supports square, vertical and horizontal videos. If you're not sure about which type to use, making square videos could attract more attention.
Square videos currently take up 78% more social media feed real estate than landscape videos.
Upload directly to a platform to make sure your video looks better and gets more organic shares. Native videos on Facebook have a 10 times higher reach than your YouTube links.
Your YouTube links don't do as well on Facebook because YouTube is owned by Google, a direct competitor to Facebook.
Take note each social platform "subculture"
Each platform is like a different "subculture" with its own language and tone.
Posting the same content on each channel will make it look as though you haven't really got the hang of social media.
Think about your personal use of social media. Twitter rather than Instagram would be the best platform for your pithy one-liner.
In the same way, certain platforms are better for some purposes than others.
Want to raise brand awareness among millennials? You would probably have the most success on Snapchat or Instagram.
Want to reach women in their forties with your anti-aging products? Pinterest would be the ideal platform.
Lighthearted, entertaining brand awareness videos often perform well on Facebook. The Facebook algorithm takes into account a user's previous actions related to videos when deciding what to show them on the next occasion.
LinkedIn is a great platform to post educational content. Showcase new technology or provide a tutorial on how a physical product works. Share time-saving hacks or something new you've learned that people in your network could benefit from.
Live video has taken the world by storm and 80% of people prefer live video from a brand to social posts. The Social Media Examiner says that 50% of marketers plan to use live video this year. According to Facebook, its users spend three times longer watching live video.
Produce quality content
Content that is useful, entertaining, funny or educational, all do well on social media.
Solve a problem
The top-performing content is informational in some way. Solve a real problem for marketers, such as how to get more traffic to a website.
Tell a story
Everyone loves a story and video is the perfect medium for this purpose. Digital storytellers need to use a good script and a storyboard to make sure a story is strong.
Like any other story, your video story needs a beginning, middle, and ending. You need to think about the plot, the setting, the hero and other elements that make a story appealing.
Remember that high-intensity emotions, such as awe, joy and surprise will always make a video more shareable.
Any good story has a great ending. Don't neglect a clear Call-to-Action at the end of your video.
Your Call-to-Action must be designed to move viewers to the next phase of the customer journey, whether this is watching another video or downloading an ebook.
It helps to look at examples if you want to write a compelling CTA. This also differs between platforms but the best CTAs are straightforward, personal and actionable.
Optimize for mobile
More than half of all videos are viewed on mobile devices and 92% of mobile video viewers share videos with others.

Make sure your videos are optimized and responsive for all screen size. For example, any text must be clear and legible. Preview it on a mobile device yourself to make sure.
Many viewers will watch videos in public spaces on mute. Make sure your video is engaging with or without sound. Add a compelling title with a short description. Add closed captions to make sure your video is still accessible with sound-off.
Use analytics
You need to know how people respond to your videos. Are they watching from start to finish? Which part of your video is rewatched? At what point do viewers drop off? Which topics are being shared most? Are videos underperforming on a particular platform?
The only way you can know this is by using video analytics. You can get some information from social media platforms, such as views, likes, shares, etc.
Video hosting tools can give you more information than social media platforms.
"Rewatched segments of your video, for example, is a highly informative metric that tells you which section of video viewers found most relevant or interesting."
This metric could be used to create a targeted email list. People who have a high number of rewatches are probably just that much closer to making a purchase.
Engagement rate is another powerful metric. It is the amount of time someone watches your video divided by the total length of the video. It gives you a good indication of how interested a viewer is in your content.
Play rate tells you how many people who view your video actually play it. If people don't hit play it, could be because your thumbnail, title or description needs improving.
Using analytics to obtain information like this means you can work on improving performance. You can also use analytics to generate ideas for new content.
If your company has a blog, for example, you can find out which video content performs best and make more on the same topic.
Conclusion
Making the perfect social video involves paying attention to your audience and the specifications and different nature of each platform.
It means creating quality content that addresses a need, solves a problem or entertains people and makes them laugh. Everyone loves listening to stories and video provides the perfect platform for storytelling.
Using analytics to track and improve your video performance is vital. You can't strategize and improve your content without knowing the metrics.
Offer great value to your viewers and they are likely to keep watching. They will respond to your compelling call-to-action and may even become loyal brand ambassadors.
Originally published on May 27th, 2019
, updated on June 3rd, 2019