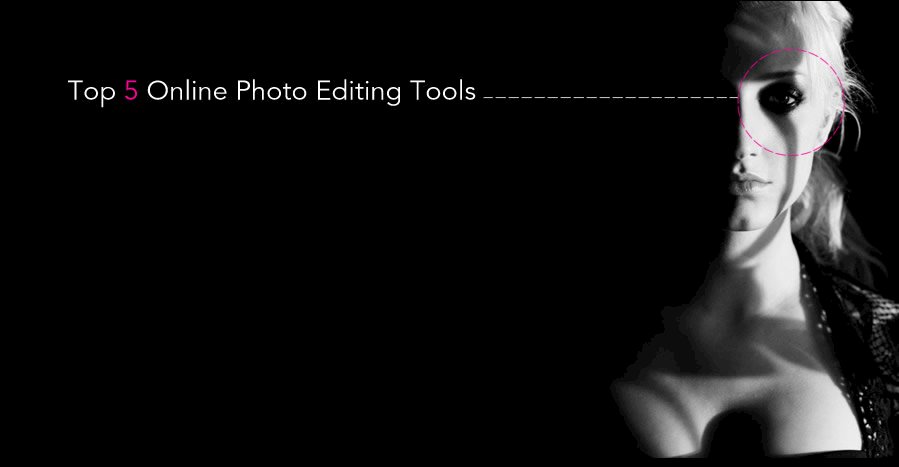 The Best Online Photo Editing Tools
---
Some pictures are good, some picture are bad, but most important, almost all the pictures can be fixed. If you need a quick blur correction or some photo quality improvements, but you want to avoid installing software or purchasing expensive editing packages, then you are in need of an online photo editor. Good news, you have a plenty of wiggle room.
The browser photo editors are a quick and reliable alternative to pricey image editors. You can upload your images directly from your computer, import them from your social media channels or retrieve them from Dropbox or online storage sites (Flickr/Picasa). Then let the photo editors to do the heavy lifting for you.
When choosing a suitable image editor, bear in mind these criteria: ease of use (it has to be efficient and intuitive); editing features (depends on what kind of transformation your picture requires); design features (check those effects and filters, they can add flair to your images); import and export options (check the formats supported and the choices you have for both import and export). So let's have a look at our online editing tools selection:

Pixlr
Pixlr is the best choice for no-software photo editors. Being one of the most complete image editors from the market, Pixlr comes in 4 different versions: Autodesk Pixlr (browser based or native app), Pixlr Editor (basic editing controls for exposure, sharpening and cropping), Pixlr Express (quick special effects,  tilt shift and filter enhancement) and Pixlr O-Matic (retro effects, overlay and borders).
Reminding of Photoshop, Pixlr has many functions similar to its more expensive brother. The layout is on-point, providing an user interface with adjustable menus and same keyboard shortcuts. Even if the capabilities are not similar, Pixlr is great photo editor with a main toolbar, a Navigator, History and Layers. With many adjustments, filters, transformations and distortions, available in 25 languages, Pixlr is the only editor that can get you as close as possible to Photoshop, without having to pay a dime.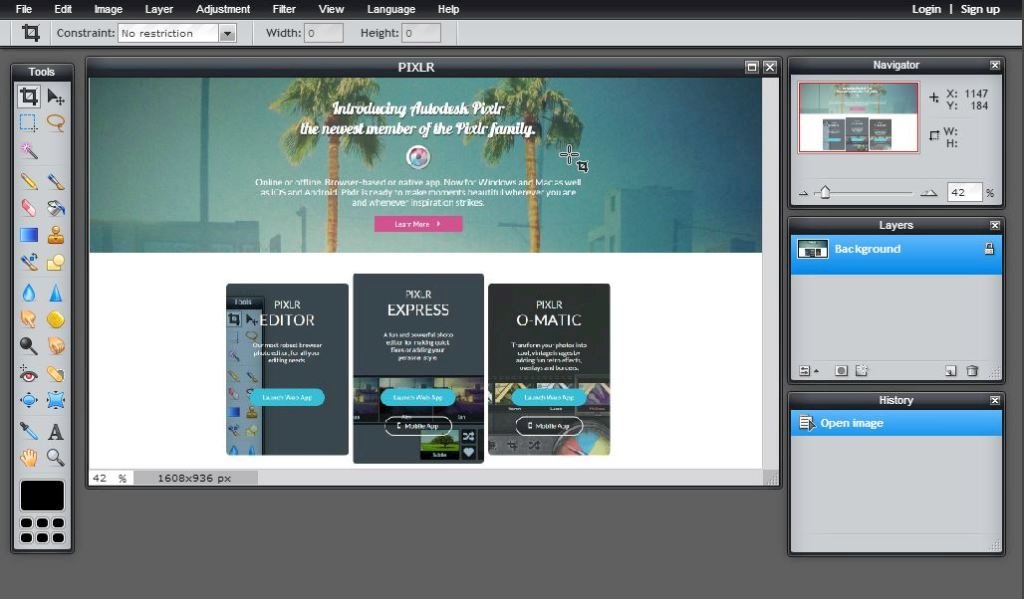 Sumopaint
Based on a Photoshop – alike interface, Sumopaint is a great choice for online (or app) photo editor. Sumopaint is advertised as "Photoshopping in your browser" and comes in two versions, one free with basic options and one paid – with advanced editing options. Sophisticated and intuitive, this photo editor has a full toolbar enabled with selection, paintings, shapes, cropping and transform tools, zoom, eyedropper, foreground and background colors.
The pull-down menus come with same Layers, Adjustments, Filters, so if you are a Photoshop savvy, Sumopaint will be like a walk in the park for you. However, the "goodies" are locked for the Pro version and if you want to delve deep into editing, you might want to pay the  $19 fee.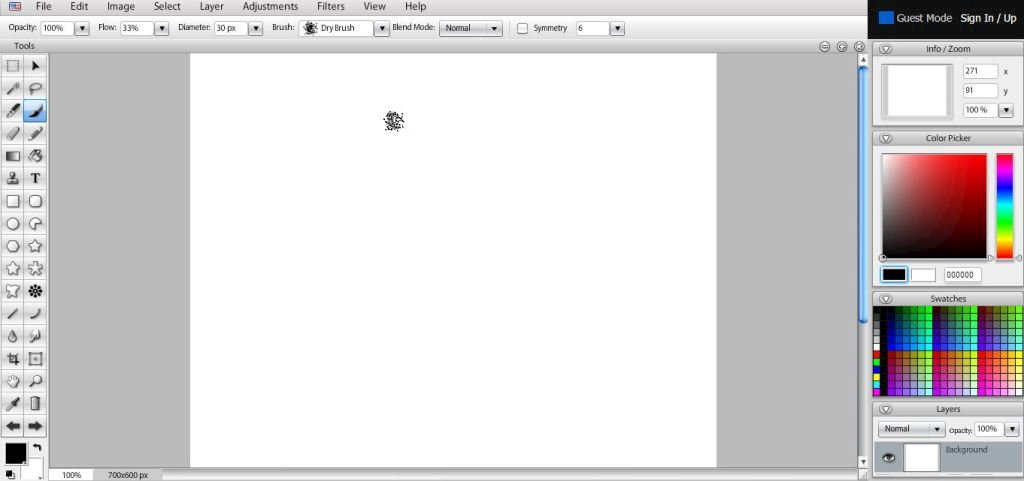 Fotor
With a wide selection of cool filters and tools, stickers, overlays and easy-to-use interface, Fotor is a great photo editor. For an efficient browser integration, Fotor allows you to install a Chrome extension and offers you 5 photo enhancement utilities. If you need a playful touch, you can add hearts and bows to your images or create collages, greeting cards and HDR images.
For selfie–maniacs, there is a module called Beauty which improves the portrait images.  Compared with other editors, Fotor's flashing ads can be a bit distracting, but there is a great deal of benefits coming with the package, like crafting opportunities and loads of filters, frames, clip arts or a Tilt Shift tool.

PicMonkey
PicMonkey, "Photo Editing made of win" as they promote it on the website,  is a web editing app with Instagram – like filters. Similar to Fotor, you have to complete one task before moving to the next, but the toolbar easily allows you to undo and redo your moves. PicMonkey has two versions, but for more in-depth editing (curves or burn tools), an update to the pro version is needed.
Powered with blemish fixing tools (airbrushing, wrinkle removers, mascara or lip tints), this photo editor gives you a lot of liberty. However, be warned, overusing the options can create quite fake and visibly altered images. You can dress up your photos with some sticker overlays (like mustaches or party hats, in addition to many borders and textures).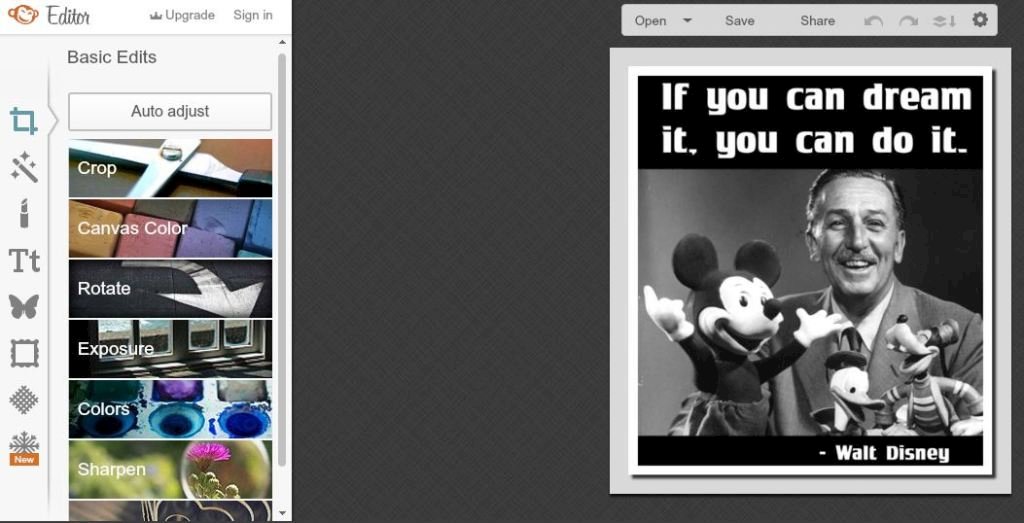 BeFunky
Built with an intuitive interface and a huge array of quality booster elements, BeFunky can give you some trouble with choosing how you want to edit your picture. You can either Cartonify and Inkify your images, add grungy frames, stickers, colored backgrounds or create a collage of your images. Furthermore, you can even create a Facebook cover for your timeline layout. The only down side of this online tool is the busy ads placement all over the canvas window, which can distract you from your editing.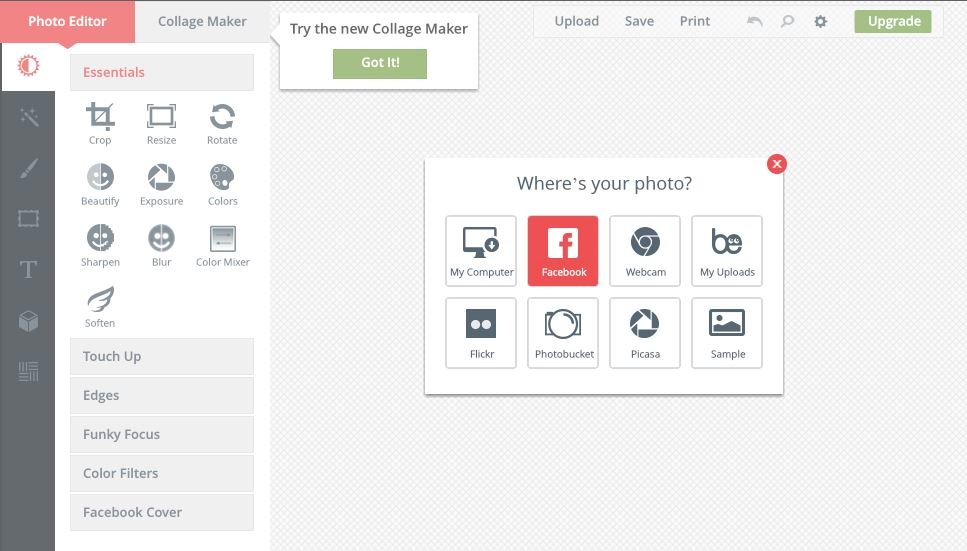 These are our top choices for online photo editing tools. However, the recommendations don't stop here, have a look at these photo editing tools as well: Ribbet (Picnik successor, loads of edits, stickers, filters and fun tools), Picfull (one-click photo editor with over 20 filters to choose from), LunaPic (video-style animated effects, Microsoft inspired interface), Gimp (open source software, almost older than Photoshop), FotoFlexer (tabbed interface, beautifying, distortion and decoration editor), Seashore (open source editor for OS X, uses same native file format as GIMP), Image Tricks (image editing tools for Mac, it can covert photos into ASCII art) or FlauntR (sepia and gray-scale, cross process and vignette options, perfect editor for scrapbooks)
Now, go ahead, choose the photo editor you like the most and let the fun begin!
Thank you! Any other feedback?