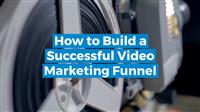 Having seen the statistics regarding the effectiveness of video as a marketing strategy that dominates the internet, most marketers are aware of its amazing benefits. If not, the latest statistics will make you aware of its importance as an inbound strategy.

However, there is a great divide between knowing how vital video content is and being able to utilize it effectively. Every individual pass through the same phase in their quest for a solution for an issue. This led to the formulation of the sales funnel, which represents how many users go through the various non-variable phases.
Despite this fact, everyone experiences the sales funnel differently, inherently making everyone's journey unique. So, how can you utilize video to optimize every stage of the sales funnel, ensuring maximum conversions?
Top of the Funnel
Affectionately referred to as TOFU by some of marketing experts, this part of the funnel is reserved for creating interest in your product and brand awareness. By extension, it's aimed at increasing the amount of traffic on your site and your social media channels.
With too many problems on their hands, it's their time to deep-dive into the throng of different products the market has to offer. When they come across you, it's time to find ways to stand out.

Among the more popular ways of achieving this include:
How-to videos: Dedicate a section of your website showcasing about how various problems can be solved using your product. A video content management system would be a useful tool to help in keeping all these videos in order.
Introductory videos: These can be produced in various ways. These include indexed webinars that can be used to search for relevant information quickly. If the webinar was carried out correctly, it will work great for video engagement.
Industry leader interviews: One-on-one video interviews with leaders in your niche are a great way to get people interested in your product. Instantly-recognizable people are the best fit for this category, but anyone sufficiently knowledgeable should do the trick.
A significant fact to remember with this regard is that up to 70% of people are more likely to buy a product if it's recommended by someone they know/trust. If a more significant industry leader is a fan favorite of your company and it has a high PR, it will work for your interest.
Explainer videos: These are almost like how-to videos but are more focused on the why aspect of your product rather than the how. Answer the most common questions people ask in a way that's to understand right off the bat.

This is also the optimal time to adopt the use of video call to actions to prompt users into performing specific actions. Downloading a white paper in exchange for their email address is an especially often-employed (and useful) strategy.
Middle of the funnel
Once they have seen enough of your product to decide it's for them, they move on to the middle of the funnel. Here is the moment to keep them interested by showcasing just how much your product has to offer and how more elegantly it performs as compared to your competitors. For example, in E-commerce, almost 73% visitors who watch videos buy something. That's a big number and you cannot afford to miss it. This is referred to as the consideration/evaluation phase.

Here, your primary objective should be to keep them in the funnel using tools like targeted emails and unique offers they can't turn down. Video content strategies that can be employed include:
Client testimonials: A client testimonial from a well-known firm is always a welcome way to demonstrate similar problems of other people. It states that other people had the same issues in the past and that your product was able to resolve.
Product demos: Schedule a demo with prospective customers to expose more nuanced aspects of the product that would otherwise not be visible from segments in how-to and explainer videos.
Case studies: Video case studies serve pretty much the same purpose as client testimonials. The only difference, in this case, is the execution. They are also usually aimed at more specialized markets.
Integrations: This may not be necessarily relevant to every business out there, but for certain SaaS products, it's especially important. For example, PayPal may need to demonstrate how efficiently their product can work in tandem with local banks or various card vendors. Through video, of course.
The key to getting this phase right is creating a personal connection with the lead. Send out a personalized video email or personalized message on a social media platform. If you collected information regarding the kind of emails, they would like to receive beforehand, even better! As time passes and they interact more with your platform, the content can be even more personalized.
Bottom of the Funnel
Or end of the funnel – This is the part where all the lead can finally start being referred to as a qualified lead. This customer is sufficiently satisfied with the thought that your product is going to solve their problem.

They will consider it among a few final products they have in mind. Here, you nurture them into believing you're the right choice, and they are well on their way to becoming customers.
Different types of videos you can use at this part of the campaign include:
FAQ videos: Answer the most common questions that are usually addressed to your customer care team in the form of a video. Possibly even showcase how your product answers the question without words.
Follow-up videos: Once they have signed up for a free trial or taken some action (e.g., downloaded your white paper), follow up on them through a series of check-ins. How has their experience with your product so far been? Do they have any feedback? Do they need help setting anything up?
Instructional videos: Together with follow-up videos and FAQ videos, instructional videos also help customers figure out issues they may have. This could also be the part where you use formal introductory videos to acquaint them with the support staff. You could also make use of your digital asset management skills to push videos regarding the most common actions taken after signing up. Eg. How to set up their web server.
Instructional videos can be especially helpful since they often serve to bridge the knowledge gap and alleviate the need to contact customer care. Frequently, it also foregoes the need for a sales demo altogether.

Depending on how your company is set up, this could be the most crucial part of customer retention, especially if you rely on a subscription model rather than one-time purchase. It will also benefit you much if you managed to capture the user's engagement early on and the nuanced aspects of your platform are caught on video.
Conclusion
With such large swathes of data to dig through, the average person may have trouble navigating your video library if you were to throw everything in their faces. There exist lots of manual 'hacks' to keep things together, but they are often as ineffectual as a proper digital asset management system, otherwise known as a video CMS (video content management system). By presenting your video library, to a user; it will always have its place in the marketing world.

All-in-all, if the growing popularity of YouTube is anything to go by, a video has been demonstrated to be a very engaging communication medium. Appropriately used – right from the top of the funnel – it can be used to guide a lead through the content funnel and potentially lead to a lucrative ROI.
Originally published on November 4th, 2018
, updated on March 20th, 2019