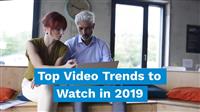 How often do you see blogs and articles with statements like "This year, video is more important than ever"? Too often if you ask us.
Video has always been the most important form of content, but the world is slow to realize it.
If you want your brand to flourish, it's essential that you follow all the current video trends. In both B2B and B2C, it's essential to consistently update your video marketing tactics.
Why exactly? Isn't it better to follow "the beaten path" and use verified strategies to promote your brand?
Absolutely not. Following new trends don't make your content more accessible. It also shows everyone who follows you that you're willing to adapt.
If you're out of ideas, maybe you need to take a step back and see which video trends dominate the year 2019. Video is slowly creeping into every facet of life and it's high time you used its full potential.
Analytics are influencing all other video trends
Remember when all you had to was create a video and manually share it on social media? We do too, but times have changed. Creating videos is now a fine science, and people heavily rely on video analytics to improve their video content.

How fine you ask?
Well, it's fine enough to shift attention to several new statistical implications. You have to follow exit points, points of summary and even things like the volume of background music.
A/B testing has also become a staple in content marketing, in an effort to create the ultimate brand video. All of this is because video creators and marketers want the ultimate insight into all video content.
"The more details we know about a certain video, the easier it is to optimize it in the future."
Preview instead of autoplay
Viewers are getting increasingly tired of auto-playing videos. There is nothing more annoying than clicking on a page and hear music blasting out.
Brands who have been insistent on it have suffered record exit rates and losses of revenue. What do they do to effectively showcase video content then?
The answer lies in previews. With a short gif or a time-lapse preview, users can see what the video is about without a player popping onto the screen.
Video is slowly swaying towards a user-centric hierarchy. The priority is to create the ultimate user experience.
Instagram stories are more important than posts
How can something that exists for a mere 24 hours be more important than a permanent post?

Think about it. Brands love Instagram stories because they are easily accessible, a lot more engaging, entertaining and brands can add a direct link to convert viewers into potential customers. With a mere tap of a finger, you can slide over to the next story, and so on.
Instagram posts, on the other hand, require a lot of scrolling. Also, a few years ago Instagram implemented a new algorithm, so sometimes followers can't even access your content on their timeline. Because Instagram stories are short and interactive, they are amongst the most important video trends in 2019.
Captions over music
According to Wordstream, over half of all video content is viewed on mobile. This doesn't involve just changing website design for homepage videos. Instead, it may lead to the disappearance of videos with sound.
Hundreds of millions of people watch videos on the train, in school, and at work. Because they're unable to turn up the volume, brands have to use captions to guide them through the video.
Will this lead to the death of video itself?
Certainly not! In 2020 and beyond, we might see a strange fusion of video content and sales copy merged into one form.
Video education
Around the world, institutions are abandoning conventional forms of education. Classes and lectures are severely inefficient forms of sharing knowledge and it's high time for a change. What could the solution be?

Videos, of course. Even the most renowned universities, like Harvard and Yale, offer video courses. This form of education allows the student to take control of his/her own learning process.
However, this is just the beginning.
"Brands are massively adopting a video-centric form of tutorial provision. No more reading, no more manuals and definitely – no more unclear instructions."
Using 3D modeling, clever animation, and captions, you can market a product and almost mimic its real state- all for educational purposes which, eventually, result in sales.
Podcast videos
Podcasts are a great marketing solution even in pure audio form. Why not take your strategy up a notch and use two excellent assets at the same time? Taping your podcasts is one of the premier video trends in 2019.
No matter how informative you are, there is still something that sound doesn't provide. Things like facial expressions and chemistry can't be replicated by a non-visual podcast.
Many podcasters started recording their episodes in cafes, restaurants and even outdoors. Have you ever wondered why Joe Rogan is so popular?
It's because of the visuals. You can see the smiles, the anger and the chemistry between him and his guests. Human emotion sells and that's what videos are for.
Language-specific targeting
Have you ever felt an extra layer of warmth and closeness when someone talks to you in your mother tongue?
It's a normal human reaction, the rising affection when we hear something familiar.
Brands are also taking notice of this trend too. They create the same video in many different languages. All of this is to strike a nerve with their audience and market themselves as a brand that "cares."
Given the effectiveness of this video trend, we can expect even more companies to take notice in 2020.
Originally published on May 19th, 2019
, updated on June 4th, 2019