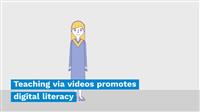 A revolution has been quietly taking place in the education industry.
The ever-expanding use of video in education has made one thing clear:
There is no limit to the number of students who can be reached.
There is a growing call to action in the education sector to graduate from traditional textbooks and adopt a holistic video approach. The latter's benefits for students and teachers alike are noteworthy. As a complementary tool, videos enhance the quality of teaching and learning in the classroom as well as alternative learning environments.

Here are some of the reasons teaching with videos is becoming more popular:
1. Visual stimulation grabs students' attention
It seems as if our lives can be summarized as one extended screen staring session. Students today instinctively expect to be visually stimulated; very few respond well to the use of text on its own. Visual stimulation encourages student interaction with content or a concept. It also creates a bigger memory imprint in a student's mind, making teaching with videos perfect for information retention.

Teachers also need to bear in mind that sometimes the concepts they discuss are beyond the realities and experiences of their students. Asking students to write a descriptive paragraph about being on an airplane is a good example. It assumes that all students have been aboard one. Students who haven't wouldn't have an idea of where to start. Showing them a video of the interior of an aircraft gives them the insight they need to describe it.
Videos are great for teaching concepts that are practical, and which are best-explained step-by-step. When students are struggling with a part of an activity, all a teacher needs to do is to pause the video to allow them to catch up. Students have the same option if they're using the videos on their own.

2. Video emphasizes digital literacy
It is vital that students do not see school and digital literacy as separate entities. They should be regarded as integrated components of education. Digital literacy is a vital 21st-century skill that is a prerequisite for just about any job. The more students are exposed to it at school, the more confident and proficient they will become. Students who film, edit, and exhibit their videos learn invaluable skills.
Using classroom videos is effective when accompanied by the right equipment. The wrong screen or a slow connection can ruin the impact of a video. This encourages teachers to use the videos on different platforms, depending on the video quality and type of equipment available.
3. Remote teaching opportunities expand exponentially
The online course market is booming. More institutions are capitalizing on this trend by using videos available online. Not only does this prove to reach more students, it also increases the earning capacity of the institution.
The use of videos for online courses means that institutions do not have to hire full-time staff members to teach a course.
Ethical use refers to respecting the intellectual property of others. Make sure you obtain the right permissions for videos in online courses.

4. There are a variety of ways teachers can use classroom videos
Teachers can use videos as an introduction to a concept. A good video is a great hook to get younger students interested.
For older students, using videos will greatly-prepare them for college. Requiring students to take notes or answer questions based on what they heard imparts listening skills. These skills can be applied at higher education levels where students are lectured and must take notes. Teachers can show students how to summarize what they have heard and how to distinguish between core facts and peripheral information.
Classroom videos can be used to complete scientific experiments or make art products.
If students have access to cameras, they can complete assignments and submit them in video form. With the advent smartphone technology, a video assignment is becoming ever more practical.
Videos can be used to provide students with extension work. This aims to add to what they've learned. It gives students expanded opportunities to apply the knowledge and skills they have acquired. Equally important, videos can be used for revising concepts and reinforcing them for students who need further explanation.
5. The stimulation of higher order learning
The use of videos stimulates the cognitive processes of thinking, reasoning, problem-solving, decision-making, and creating. Videos take the student beyond recall-and-relate activities. Use videos to engage viewers with more complex themes, and to facilitate further engagement with the content.
In today's challenging social and economic environment, critical thinkers who can use lateral thought to come up with solutions are invaluable. When we encourage this kind of thinking early-on in a student's life, it's likely to become an integral part of his or her approach. Critical thinkers tend to see opportunities rather than problems. Using videos as an additional resource to get students to think outside the box should not be underestimated. Any methods that challenge students to go above and beyond the scope of banal, conventional thought processes should be incorporated in the classroom.
If current trends continue, and there are clear indications they will, videos will facilitate a future generation of innovators who can face the future and its, as yet, unknown problems.

6. The variety of videos available
Given that education videos can be used in so many ways, it is vital that teachers explore options when choosing videos. Based on the videos they have access to and have the authorization to use, they can decide how to use them. A teacher can determine if a video is applicable as an introduction or for extension work, etc. The video he or she chooses must be 'fit for purpose', which means it must match its intended purpose.
A teacher ensures that a student is authorized to use the video and he or she has the right equipment to use during class. There is a massive amount of content for teachers to choose from. Taking a bit of time to view several videos to find the right one is essential.
7. Teachers become facilitators
When a teacher uses videos in their classroom, they briefly step out their own role and adopt one of a facilitator. They get to step back and allow students to undergo the learning process under their own supervision. This provides a teacher with better insights regarding their students, their learning styles and capacities, and what stimulates them. A teacher can keep all these factors in mind when planning future lessons.
However, throughout the process teachers continue to play a pivotal role in the delivery of a curriculum.
A video cannot replace a teacher. High-quality teaching remains critical to excellent student performance. Teachers who use videos to supplement their teaching instead of replacing it have the most success.

8. Video hosting is a growing industry
Platforms that allow innovative video makers to share their work are becoming increasingly popular. They create a centralized place for teachers to search for educational videos. Several video hosting services have emerged in the age of student video education.
When selecting a service to use to showcase your videos, specific factors must be considered.
It must be a reliable service that does not have a reputation for crashing. The service should have protections in place to eliminate pirating or hacking. It must be able to process and accommodate more extended video clips. Investigate the cost of using a video platform and limits imposed on users before selecting it.
9. Videos can be used to accommodate shorter attention spans
When teachers select a video for their classroom, they must bear its length in mind. A thirty minute video should not be broadcast in one sitting.
The average student attention span is 7-15 minutes depending, on his or her age. Anything extending beyond that timeframe will be 'lost' time, as students won't retain very much. A video can be stopped every so often so that discussions can be held. Then, when it is resumed, everyone is ready to concentrate again.
Most good educational videos come in smaller modules, accommodating students' shorter attention spans.

10. Videos are excellent marketing tools
Schools and higher learning institutes use videos as a key component of their marketing campaigns and initiatives. These videos are designed to attract attendees, and are tried and true marketing and communication tools.  Events can be recorded and streamed for live viewing. People associated with the school feel like members of a family when they are included. This is an easy way to keep them up to date. This type of innovative approach to public relations is attractive to potential students. It is viewed as 'moving with the times' which is an essential criteria in selecting an educational institute.
The return on investment for promotional videos can be measured in either academic or enrollment performance. Most institutions that have measured it report an increase.
Record | Protect | Share | & Track your personalized videos with RecTrace
Screen record your lectures and create engaging video presentations
Originally published on January 31st, 2019
, updated on November 24th, 2020