"When it comes to potential reach, video is peerless. YouTube receives more than one billion unique visitors every month – that's more than any other channel, apart from Facebook." The Guardian
Now, doesn't that sound mightily impressive? Hold on a minute, this article segment comes from a Guardian newspaper article way back in 2014! So, fast forward 3 years to present day 2018 and where do we stand with video?

In my opinion, these figures are astounding. More than 9 out of 10 people who view a video online portably, share it with others. Nearly 9 out of 10 marketers use video content to push and promote their wares. Wow indeed!
Video – A Proven Medium:
There are clear and decisive reasons for these ever-increasing figures: an online video presence, visual content and not solitary text alone is proven to be effective, and highly engaging from a customer's standpoint. More than that, it's proven to increase audience interaction, proven to trigger more of a response and pivotally from a business perspective, it is proven to generate more revenue.
So, we have a proven medium in which to garner better results; our focus then should be on maximizing this success and ensuring that the curve of profitability continues further still. Here we have the core theme of this article, and together we'll explore methods and approaches which have proven to be best uses for online video platforms.
A business video platform:
Having your very own business video platform will enable you to detail further as well as project your ideas in clearer and greater detail. Concentration should be paid to the creation and discovery of the right videos, which will truly enhance your site and brand message – not the contrary.

The attention span of modern man – with myself sadly included – is rather pathetic, and while we know video works, presenting material which provides value and stimulation is critical. It is all well and good having umpteen extra viewers through the use of SEO, and copious amounts of people in your newly gained or increased audience; but when you have that ever so brief attention of fellow man, you need to reap the rewards by enthralling, appalling (maybe) and by refusing to let go of their latent interaction – video content is able to do all of this. Convert your viewers into paying customers with precise, entertaining and brand consistent material.
Online video is an integral part of present-day marketing:
"Stop thinking of 'video marketing' as this separate entity that is optional for your business.  Video is an effective form of communication that needs to be integrated into each and every aspect of your existing marketing efforts." – James Wedmore, The 7 Video Marketing Success Principles Everyone Should Know

With the metrics above and the 21st-century addiction to social media and just everything online, who could argue with that?
An online video platform turns your once static website into a dynamic and interactive festival. There are many types of videos and plays at your disposal to enhance your website, these include promotional videos, a virtual tour, and educational webinars but to name a few.
The stats above are mind-blowing, but so are the practical uses of video; use video to explain how to install or set up your products and services, show your product in action – actions definitely speak louder than words – and share your expertise through the medium of video. Of course, the specific content of your video output depends on your sphere of business, but uses of online video can cover everything while offering visual clarity.
A Personal Touch:
A name and a brand moves mountains but give your company a personal face through video also. I remember vividly to this day a ploy used by Halifax bank (formerly building society) in the UK, in which they used ads and videos with a character called Howard. Howard added a personal touch and a friendly face to a financial institution. You don't necessarily have to follow musical suit with Halifax's Howard, but projecting a smiley face or even image of your company through video and all marketing mediums for that matter, adds an ounce of trust even to the most skeptical of viewers.
The wise creation and implementation of video can also drive the right traffic to your site. A gallery of videos which incorporate different keywords and cover a variety of themes related to your business will push targeted custom your way. Again, be wary, however, you must tailor your video so as to be appealing and so as to match the needs of this target audience.
Video monetization platform:
What's the aim of the game? Is it to make a few people laugh? Is it to be seen by as many people as humanly possible only? Or is it to create a stable business that moves with the times, generates stable revenue and is regarded as both trustworthy and value for money?
I would hazard a guess that the desire of most people would be the latter, or at least somewhere in that ballpark. So how do we convert interest and video viewing into cold hard cash?
First of all, video shouldn't be regarded as an artistic, cinematic period of time only; it should also be viewed a marketing wizard which with a formulaic lean can generate leads, and facilitate email integrated marketing approaches. Email integration (campaigns) can increase user interaction and lead generation by 150%  and that figure is no drop in the ocean. Generate those leads by demanding increased user interaction and with email integration, make your recipients grin with joy at your visual messages and gifts-like emails.
The cincopa.com online video platform and VAST:
Cincopa's online video platform proffers an added solution, a solution which enables you to turn video generated revenue into an ongoing and solid source of income. VAST (Video Ad Serving Template) working alongside Cincopa's online video player facilitates the publishing of custom ads from third-party advertisers; from there you can set your own pricing and optimize placement.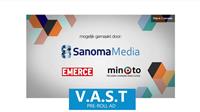 The utilization of video within your website and marketing strategy, is proven to guarantee success. You have various video monetization approaches such as email integration and lead generation. To compliment that and to add some extra security even, to this proven medium of video, you have VAST which utilizes your very own platform to generate money from 3rd party companies and not your initially intended target audience alone. Use and attempt approaches to give you and your business the greatest chance of success.
If you don't have video incorporated into your marketing, you are now in the minority 13%. I am all for the underdog but cold hard facts support and have resulted in 87% of marketers utilizing the medium of video. Follow suit, succumb to positive peer pressure and go one step further, use a platform which offers added incentives and guarantees in this super competitive world of ours.
Originally published on March 8th, 2018
, updated on April 25th, 2019