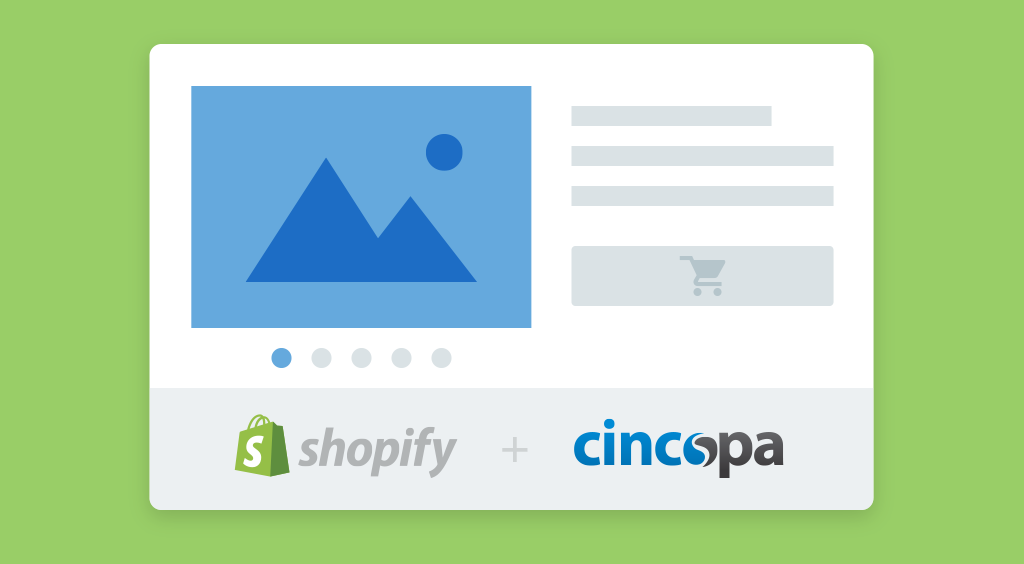 Add Rich Media Galleries to your Shopify Listings
---
Shopify is a leading ecommerce platform for online business, which allows anyone to easily build an online shop with attractive and multifunctional design to be able to sell products or services online. This platform is used by more than 300,000 online shops worldwide, and the number keeps growing!
Integration between the platforms like Shopify and Cincopa extends the capabilities of your eCommerce store with fully customizable design multimedia galleries, attract viewers with interactive product listings, and increase your sales. Online customers are much more likely to make a purchase when they are able to view pictures and videos describing the product. The good news is that with Cincopa, you can add interaction to your Shopify store just in a few clicks!
Visualize your Shopify store with effective media galleries powered by Cincopa
It's very easy to add visualization to your eCommerce store these days. Cincopa is a leading multimedia hosting and management platform preferred by thousands of online business all over the world. It lets you upload, store, manage, publish, and share all sorts of multimedia content: videos, images, audios, podcasts, presentations, slideshows, documents, and more.
Any Cincopa media gallery may be seamlessly embedded into a Shopify website. Your customers will be impressed with catchy product listings supplied with informative videos and images. They will definitely give preference to you over your competitors with boring plain text listings. Showcase your sales offer in an interactive way: add an engaging video review or image slideshow demonstrating your product or service in action. You can engage your customers even more with a video portal embedded to your Shopify website. What a perfect way to feature a collection of relevant videos describing your products, services, reviews, testimonials, and make them look like a visualized story of your business!

Cincopa helps to improve your Shopify store's SEO
Another benefit of integrating your Shopify store with Cincopa is improving your business's presence in online search. All videos, images and other media types that you embed from Cincopa start working towards improving your website's SEO right away. Simply put, Cincopa's embed codes are enhanced with the power of JSON-LD. It's a new, super SEO-friendly embed code format that injects meta data which comes with videos and images (e.g. title, captions, tags) into the <head> section of a web page. JSON-LD helps search engines to crawl an entire webpage faster and index your content higher. Besides general search results, web pages from your Shopify store that contain videos or images will be represented in Google or Bing's video and image search results. All this means more traffic for your eCommerce website and increasing your sales.
Cincopa is a dedicated digital media hosting and management platform for eCommerce
Here at Cincopa, we offer the most complete multimedia hosting and management solutions for eCommerce. We provide seamless integration with Shopify, as well as other eCommerce systems. By using Cincopa in couple with Shopify, you'll be able to engage your online customers like never before, increase your ROI and sales. Take advantage of Cincopa's powerful marketing tools enabling you to strengthen your competitive advantages. Use Lead Generator to add custom HTML forms with a call-to-action to your online video player. Collect qualified leads and get them saved automatically to your email lists. Gain detailed insights about people who viewed video on your eCommerce website with Cincopa Video Analytics. You'll be able to see each viewer's personal information (such as location, IP address, device type, browser, etc.), analyze their viewing activity and figure out their preferences in order to approach your potential customers with more effective sales offers.
How to embed galleries with videos and images to your Shopify store
Cincopa is fully integrated with Shopify. Now you needn't worry about how to handle multimedia embedding process. Simply follow these steps and get your content instantly published on your Shopify website:
Select one of the 100 rich media templates available and create your own gallery. Any template you choose may be fully customized.
In the "Embed Your Gallery" menu, choose "HTML Embed" and copy the code by clicking on the blue button.
Go to your Shopify admin panel. Open on the page or blog post where you would like to embed the gallery in the editor's mode.
Click 'Show HTML' and then paste the gallery embed code you previously copied. Click 'Save' to save changes.
Your new media gallery is now live on your Shopify website!
Thank you! Any other feedback?