Multimedia content plays a vital role in our modern, technologically-advanced business environment.
It's essential for creating an effective online presence and achieving advanced marketing goals. While nearly any business has a website, arranging proper multimedia hosting and management can be a challenge.
At a certain point, many website owners and marketers conclude that using their own servers to run advanced operations related to multimedia storage, management, marketing, and delivery to end users can be tough and expensive. On the other hand, more and more businesses worldwide are choosing professionally-built media hosting platforms providing the highest level of privacy along with a reliable content delivery network (CDN) and a rich marketing toolkit.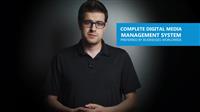 Avoiding breaks and delays
Cincopa is a reliable multimedia content management platform that has been operating worldwide since 2006. Our robust CDN uses powerful Amazon S3 Web Services, so you can forget about any breaks and delays forever. Your content will always be delivered to users at the maximum speed and in the highest quality possible. You'll never lose any of your data because Cincopa creates automatic backups and stores your content securely. At the same time, you don't have to take care of any technical issues at all: Cincopa does everything for you allowing you to take advantage of effective tools and templates with no unnecessary headaches.
Making privacy your main marketing advantage
There are many privacy aspects that Cincopa takes in its hands. Our solutions include right-click protection, domain lock, password protection, branding, and gated galleries. All these tools protect your content, give you full control over your data, let you promote your brand and monetize your media content. You can always decide whether and when to make your content public or private (actually, both forms can be used side by side). While public content is great to attract a massive audience to your website and can be monetized with display ads, private media works for specific marketing goals, such as lead generation or direct monetization (so-called "premium content").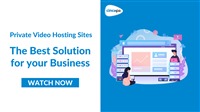 Optimization for all devices and screens
Optimizing multimedia will for various mobile and desktop devices might seem puzzling, but not when you use Cincopa. Your content will always look great on any screen with our responsive templates. Here at Cincopa, we provide 100+ ready-to-use templates that can be customized according to your specific needs and allow you to take full control of how exactly your audience interacts with your content.
The best private video hosting platform
Cincopa is not a simple media hosting service. Our platform keeps your content secure and provides a plethora of solutions adding value to your business and reinforcing your marketing strategy. Create a free account at Cincopa to check the tools and features we provide. Sign up for a free trial today and use the whole set of marketing solutions our private media platform has to offer.

Originally published on March 5th, 2018
, updated on April 25th, 2019