Video is king.
Or, as my colleague Tamara put it to me: 'Video killed the blogging star.'
While that's not entirely true (we still have jobs, thankfully), video is a huge driver of marketing qualified leads (MQLs).
While we produce many different kinds of videos, some of our top-performers are ones we made that touch upon more niche topics.
We make a point to go after these ideas because we know they work, and you can adapt the same principles for your own video marketing strategy.

BERT and what it means for video SEO
Recently, people in the SEO community have been talking about BERT, Google's new algorithm update. BERT is a big deal because it helps Google better-understand the true intent behind your query.
It also means you can ask Google conversational questions instead of using what Google calls "keyword-ese."
For example, you can now phrase queries as, "What time should I get to the airport" instead of "when to arrive at the airport." This is good news for people who frequently use intelligent virtual assistants like Siri and Alexa, and it's a good opportunity efor marketers to explore long-tail keyword topics.
More people search using long-tail keywords, but since these searches are more niche, they're easier (and less expensive) to rank for.
Let's say you run a vegan cooking vlog.
Instead of going after a keyword like "vegan recipes," you might consider a long-tail keyword like "easy vegan weeknight dinners."
The first target returns thousands of recipes from vegan pastries to vegan snacks while the second target answers a specific question, making it much more aligned with the searcher's intent.

Think MOFU and BOFU
As you're looking at long tail keywords for video topics, remember your marketing funnel.
Those whose searches include long-tail keywords typically fall into the interest and desire stages of the marketing funnel. Marketers refer to these stages as middle of the funnel (MOFU) and bottom of the funnel (BOFU), respectively.
What is a MOFU video?
MOFU topics are your comparison videos.
For example, my company makes a lot of what we call versus and alternatives content. Since B2B software buyers come to us for product information and expertise, we might make a video about project management software titled "Monday.com vs. Asana: A side-by-side comparison".
You can take this strategy and apply it to your hypothetical cooking blog as well. Instead of making a video about one veggie burger recipe, make a video comparing two different recipes for veggie burgers. For an alternatives-style topic, make a video comparing different kinds of milk, flour, or cooking oil.
The key here is thinking like your customer. This isn't always easy, so don't be afraid to do some competitor research to get an idea of what a MOFU video means for you.
What is a BOFU video?
BOFU videos are how-to and demo videos.
While MOFU videos tend to educate viewers about their options, BOFU videos show people how one product or service solves a particular problem.
If you produce business-related software, you might create a video case study showing how one of your customers benefits from using your platform.
If your cooking vlog takes off and you publish a cookbook, you might publish a video of you cooking one of your cookbook-exclusive recipes, like Maangchi did with her Korean Beef Bulgogi Lettuce Wraps.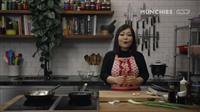 This looks different for every business, so don't focus too heavily on getting the format exactly right. Instead, think about the questions people ask when they're ready to purchase, and go from there.
Got writer's block? Recycle old content!
I'm a big fan of recycling, and that goes beyond wanting to reduce landfill waste. I also recycle old content from our blog and turn it into videos.
Here's why this is a great idea:
It shortens video production:
If you've already published an article on a certain topic, you're one quick revision away from a video script. Fire up your digital audio workstation of choice and start recording a voice-over.
It gives you a topic that works:
Don't choose any old article for recycling. Just like the aluminum cans in your recycling bin are more valuable than the empty milk jugs, some of your blog content is worth more than others. Assuming that success will translate to video, identify posts with a high conversion rate and get to work.
It creates a virtuous cycle of engagement:
Once you've created a video made up of post-consumer recycled content, use it to drive more traffic to your blog. If you host your video on a third-party platform like YouTube or Vimeo, link back to your website. Likewise, embed the video into the original blog post to drive more traffic to your videos.
It's important to keep in mind that if you do host your videos on another site like YouTube, the bulk of that video's traffic should come from organic search, not referral traffic from your blog.
Referral traffic is good for getting your video off the ground, but a successful video should stand on its own.

Niche video marketing can transform your video marketing strategy
Video marketing presents a huge opportunity for companies to see a higher return on investment for their marketing efforts.
However, it's not enough to produce relevant videos and upload them to your website or YouTube. This approach now represents the bare minimum, and a successful video marketing strategy must be smarter.
As more and more companies begin to invest in video marketing, standing out will become harder and more expensive. Many companies will fall into the trap of chasing keywords with the most search volume, but this is an uphill battle. Stay competitive  by branching off into more nuanced search terms via long tail keywords and by focusing your efforts into MOFU and BOFU content.
Forrest Brown is a writer for TechnologyAdvice, where he explores the intersection of business and technology. Originally from Atlanta, he lives in Nashville with his wife and cat.
Originally published on December 19th, 2019