Video has proven itself to be one of the most valuable marketing formats available to today's small businesses, mid-sized organizations, and large-scale enterprises. Advertisements, tutorials, and customer testimonials have a much more pronounced effect when delivered in video format.
Marketers without extensive experience in video production typically have to choose between hiring an expensive video production company and attempting to produce marketing materials on their own. Until recently, going the solo route meant investing thousands of dollars in equipment and software and spending untold hours trying to use it.
Now, however, marketers can gain access to state-of-the-art tools and expertise without having to pay top-dollar prices. Learning how to create a marketing video on a budget has never been easier, thanks to the availability of talented freelancers and a variety of subscription-based services that cover the craft's most challenging aspects.

What does it take to create a marketing video?
In this two-part blog series, we're going to cover everything you need to know to create a video, build trust, gather data, and implement a video-based video marketing system that delivers results. Find out how to use video to qualify sales leads, learn about your potential customers, and energize your social media marketing efforts.
Here's what you'll need to do:
Create a solid production plan
Your video marketing strategy won't go anywhere without high quality content. Your potential customers have questions they want answered, and your video content is the first place they are going to look.
Creating a high quality video can be challenging. If you don't have a great deal of video production experience or enough in-house resources to create a compelling clip, you will run into obstacles. Luckily, there are plenty of ways to make great video content without spending a fortune on a professional production company.

Delegate tasks
Before anything else, take an objective look at your own videography experience and determine what you can and cannot achieve on your own. Your video-based marketing strategy will require you to delegate some tasks to others. The essence of high-quality, low-budget video marketing is the process of delegating those tasks intelligently.
Here are the things you will need to incorporate into your production plan before you shoot your first video:
Scripting: Video production is creative work. You will need to start the pre-production process by identifying where those creative ideas will come from. Every type of video requires a different approach – a luxury video ad shot on-site in a tropical resort demands an entirely different approach than an interview with your CEO. Your writing team will be responsible for coming up with ideas that fit your budget and marketing scope.
Equipment: Once you have an idea for what kinds of video content you will be creating, you need to acquire equipment that can do the job. Buying equipment might be out of the question for marketers on a budget. Renting hardware for each individual shoot might be easier to accommodate in the beginning. We've outlined what a basic kit should include below.
Crew: Even the most scaled back video production team relies on a few crewmembers. At the very least, you will need to delegate a camera operator and an audio tech. If you are shooting indoors, you will likely need a gaffer to set up video-friendly lighting, as well. These people should be experienced, or you risk having to schedule expensive re-shoots after someone discovers a video, audio, or lighting mistake during post-production.
On-screen talent: Once you have a script ready, you will need to identify who will actually appear on the screen. Many corporate video marketers focus on their clients' employees, especially when hiring professional actors is outside the budget. Be sure to pay close attention to potentially unrecognized talent – your charismatic sales team leader might be the perfect face for your production.
Software expertise: Video editing is part of post-production, and it is a software-centric discipline that demands years of experience and a great deal of computing power to do effectively. These skills and assets are not generally within the marketer's core expertise, so it's often best to outsource this task to a professional freelancer.

In general, marketers can get excellent results focusing on rented equipment and freelance talent for almost every step of the video production process. Unless you have an enormous volume of video content to create (and enough resources to justify hiring full-time production employees), you will almost certainly find yourself putting at least a few freelancers to work.
The important thing is to identify what competencies you may already have in your organization. The hobbyist photographer in your accounting department might be able to offer important guidance on lighting for video production, for example. Your IT team might include a musician whose familiarity with microphone placement and audio engineering will come in useful.
Video production equipment basics:
A sample video production kit with prices
Up-and-coming video marketers often ask themselves, "should I buy or rent video production equipment?"
The answer to this question can deeply impact the overall value proposition of your video marketing strategy. The decision to rent equipment will likely result in a higher cost-per-video in the long run, but will generate far lower up-front costs while enabling access to higher-quality equipment.
Here is an example of what one video marketing company includes in its subscription-based production package, along with prices:
A Sony A7 II DSLR camera with zoom lens: ~$1000
An 256 GB SD card: ~$50
An entry-level teleprompter set: ~$800
An iPad teleprompter: ~$350
An full-size tripod: ~$25-60
An entry-level Elgato key light: ~$200
A Joby GorillaPod: $15
Two Rode SmartLav+ microphones and an audio splitter: ~$200
A Rodelink Filmmaker wireless audio set: ~$400
One set of in-ear headphones: $99
An impact-resistant, waterproof Pelican case for everything: ~$300-400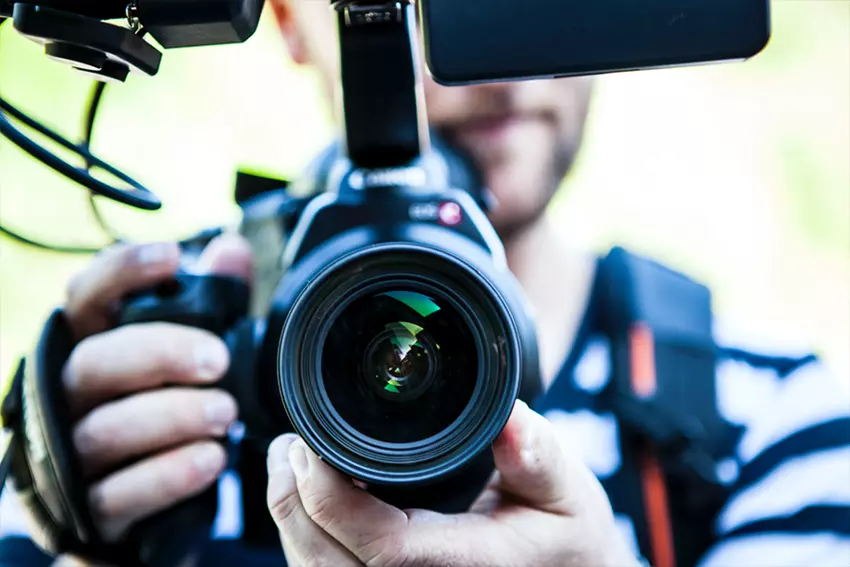 A bare-bones hardware kit capable of producing professional-quality videos in a wide variety of environments will set you back at least $4000 or so. While it may seem like a steep investment, it would be difficult to cut out any of the products listed above without seriously impacting video quality. This is one of the main reasons why renting equipment can provide greater value in the short-term.
Identify the type of video content best for your brand
Most video marketers will specialize in a certain type of video and obtain equipment or software competencies that help produce that kind of content. Figuring out what you want to achieve through video now can help you make intelligent decisions throughout the process.
There are seven broad types of video that brands are likely to gravitate towards in their quest to improve website traffic and drive conversions. Your content will likely fall into one of these categories:
Inspirational: Inspirational videos showcase your organization's core message, its values, and its overall vision into a narrative format.
Educational: Educational videos teach your audience how to do certain things, or give them important context on the problem your company solves.
Testimonial: Testimonials give potential customers key insights into how your products and services actually help people.
Explanatory: Tutorials and how-to videos can help illustrate exactly how your product works, or how your company sets about solving problems.
Demonstrative: Videos that showcase your product in a fun or dramatic way are essentially demonstrative. They give the audience insight into real-life use cases and scenarios they might find themselves in.
Cultural: Video content can play an important role showcasing your company culture, both to potential customers and to future employees.
Supportive: Video is a great format for customer support. Answering common questions in video format can help personalize your brand.

There is no one-size-fits-all solution for deciding which of these video types is best for your company. You can only achieve this by asking yourself tough questions about what your video marketing strategy is designed to achieve overall. Before starting production on your first video, try to answer the following questions:
What is the video's purpose? A 10-minute product tutorial is going to serve a different purpose than a 60-second television commercial. Make sure you are aware of the medium and environment your customers will be in when interacting with your video content.
What is the story you want to tell? The single most important element of a video is its narrative. This is true for almost every type of video – even product tutorials. If you can make users see themselves in your content, you have already won half the battle.
What do you want customers to do? This ties in with the video's purpose. A good advertisement sells products, while a good tutorial shows people how to use those products effectively. In either case, you want to pay close attention to the actions your video should elicit in the people who watch it. This is important because actions are things you can measure, which you'll be doing later.
What do you already know about your users? Marketing is the process of discovery, strategy, implementation, and measurement. It's a cycle that delivers increasingly valuable insights into your users' needs and behaviors, as you learn more about them. In order to start, you will have to base your marketing strategy on what you already know about your potential customers.
These four questions should help you round out your video marketing research processes to the point where you can feasibly create a high quality video using the resources you already have available.
Automatically generate closed captions for your videos in 8 different languages with Cincopa
Instantly witness an increase in engagement rates
Boost Your Campaign With Our NextGen Video Marketing Solution
More demand | More Leads | Higher Conversion Rate
Originally published on February 8th, 2018
, updated on February 17th, 2021