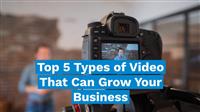 Making one's business grow is the Holy Grail of marketing. Everyone expects to find out about a magic method of business conduction that will lead them to a promised land. Amongst some options for reaching this long-desired destination of ours, we find marketing. This is also the stop where many people think they can't accomplish anything more than what they already have on their resume? Why is this case?
Well, a widespread phenomenon, especially in rookie entrepreneurs is the so-called "entitlement complex" – the notion of someone thinking that they deserve to have a famous and lucrative brand just because they put in the work. Marketing is the missing piece here, as many of you have already discovered. Out of all the forms of engagement, video engagement has risen above all others to claim the crown of the best marketing strategy, by far.
This information is valuable, but how does one utilize different forms of the video? This is precisely why we've decided to compose this piece, to help you arm your business with several different, multi-faceted and versatile forms of video. Let's take a look at how may you approach your business with each video.
Why video?
In the present-day world, merely creating content isn't enough, you need to make it enticing and use some other tools to draw attention to that same content. Today's marketing goes far over yonder, much more than the mere use of words. Insightful, useful and enticing blog posts have to be the foundation of your business plan, and there is no form of media expression that is more enticing, powerful or efficient than video.
When Forbes Magazine touched the subject of infographics, they revealed something that concerns videos also – 65 percent of all people are visual learners. Not only that, but Google AdWords statistics point to the fact that video content is much more likely to rank organically, according to Google's algorithms. Thus, we've decided to bring you five excellent type of video to reinvigorate your dreams, your goals, your business and your success.

Brand video
The core of every atom consists of protons and neutrons, right? Indeed, but businesses are not all that different from the primary particle of existence – the core is comprised out of branding and impressions. So, branding is an excellent way to introduce yourself and not fade away from someone's memory. Branding is best conducted by brand video, special means of customer engagement.
Uniqueness is the way to go, in a short and concise form. People are bombarded with ads on a daily basis and have less and less patience to put up with more new ads. Thus, you should aim for a maximum length of one minute. Additionally, according to statistics, videos that get separated into clear segments are received the best.
To captivate your audience, retain old and attract new customers, you should harness the power of animation. It's the best creative outlet, and your customers will connect these positive traits to your brand – creativeness, diligence, uniqueness, and efficiency. Combining such characteristics leads to good impression, which begs us to mention the second half of our business core – impressions.
Testimonial videos
People can view your perfectly executed brand videos, those flawless animations and the verbose delivery of your executives, but they will still smash their heads into the wall of hesitation. Why? The answer lies in the notion that people distrust ads and brands talking about themselves. An average customer is much more likely to trust another person than you. Sad, but true, isn't it? Undoubtedly, but this isn't a reason for you not to use this flawed trait of us humans.
Impressions are the key to establishing trust amongst your customers, and testimonial videos are the way to go. If so many people are happy with your products, why not allow them to be a part of the family and participate in your success in an immediate way? Send out invitations for an audition to your mailing list and reward them for their time and kind words.
New customers will feel encouraged by the many smiles from your satisfied customer core. This will make you seem like a people-oriented brand, one that isn't just targeting customers like unsuspecting sheep.

Explainer videos
Every site has an FAQ page, right? Of course, it's the basis of every brand's image. There, various questions, potential problems, and conundrums are presented for people to navigate. Imagine yourself in their place. Would you like to read through walls of text and a myriad of images? Of course not. This is why you should add explainer videos to your marketing arsenal.
They should be short, 1080p pieces of video that relate to the problem. With background music, you will accomplish further relaxation in the minds of your customers and allow them to understand how to find the solution to their problems in the blink of an eye. With bright, pleasant fonts and slow-paced, but efficient animation – your brand will seem simple, lucrative, efficient and futuristic.
Such videos don't only have to concern the FAQ page. They can relate to specific products, functions, tutorial and anything else that requires a substantial amount of explanation. With good video hosting, you're good to go.

Product videos
Bigger companies are always under suspicion that they release products to amass more money, disregarding people's needs in the process. To stop your brand from becoming a victim of such false assumption, you have to act and act fast. The best way to emphasize every single product of yours is to use product videos. Give everything a face, give it a story and an identity for people to get to know. Why is this so important?
When the content appears in your customers' video player, they will start realizing that you're not only selling a product, an object, but you're selling something of indubitable use and beauty – a whole experience. Take Nike for example – when they released the new LeBron 15s, they dedicated a video to introduce us to the creative process and what stands behind these shoes. They also did story videos for a few colorways, to elaborate on the significance.
Product videos have the goal of product personalization. To accomplish this, you need to devote time and mind power to present every product accordingly.

360 videos and Livestreams
These types of video are integral to the present-day customer, as we prepare for the third decade of this millennium. It's not always about image; it's about transcending a form of marketing which sends one message, with an obvious goal. With 360 videos, you can give your customers an overview like no other. As they observe the entirety of your shop or workshop, they will feel like they're in control. There is nothing that people love more.
Of course, not everyone will be able to attend your events or listen to your podcasts. Why not live stream them? If you're doing a Q and A, stream it on Instagram or Facebook and answer people's questions right away. If you're in the commercial business, make sure to allow people to feel present by displaying essential events via a live stream. Thus, a customer isn't a customer anymore – he becomes a family member.
Originally published on May 3rd, 2018
, updated on April 24th, 2019