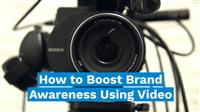 Brand awareness is at the helm of every single business' existence. It runs so deep that newly formed companies dedicate as much as half of their initial investment into having people know their product exists.
And yet, when the time comes, it's not enough for a customer to be able to recognize your company's logo on the internet or a car on the street. Brand awareness is more about building an identity around yourself. It's more about creating a feeling of trust and safety rather than merely recognition.
Creating a culture of brand awareness with your target audience is essential to increasing the number of conversions your business enjoys. With much regard, there's never existed a better way to grab people's attention and to keep it as video content. Video marketers achieve a 54% increase in brand awareness. It's a big reason for you to jump on to the bandwagon.
Determine the purpose of your the video
This first part of any video awareness campaign should be used to define the purpose a video itself is supposed to help. Start from laying out the values of your brand and build on that to create ideas. Then narrow down until you have a well-defined purpose.
A few reasons this will be advantageous to you and your brand includes:
Save money
Marketing is hard, and it takes a lot of money to do. This is even more so if you try to target a wider audience. Defining the purpose of your video campaign narrows this gap, such that as much as your target audience can relate to your problem. Don't try and please everyone.
Generate higher ROI
Well-crafted and targeted messages are more likely to garner some response, and, by extension, return on any amount you may have invested in the product. The more it resonates with your audience, the more likely they are to spend any money on it.

With that said, you generally need to reach simple conclusions like, 'to educate the target demographic of the usefulness of the product' or 'generate new inbound leads.'
What kind of video are you going to utilize?
Once you've determined the singular reason why utilizing your video library for increasing awareness of your brand is the way to go, you need to decide the right kind of video that will resonate with your audience.
As simple as this may sound, it often takes the brunt of the work, since there's nearly an endless list of video types that can be used. Historically, human beings have always been terrible decision makers when presented with too many choices.
Depending on the kind of message you try to get across, and what the higher-ups will think, some video types you can make use of includes: animations, time lapse, stop motion, product demo or case study.
Various decisions must be made in-between, too that could potentially affect how a video is perceived by your target audience, in the end. For instance, subtle choices like the music, theme, length of a video, tone of actors and formality of the video will have a lingering effect, even once the video is done.
The most common types of videos used include:
Explainer videos: These do pretty much what their name suggests. They explain what your company does and your approach to the problem you're trying to solve.
Pre-roll video ads: These are by far the most common (and, if their popularity is any indicator, effective) kind of video. They last for a maximum of 30 seconds and are supposed to pass the message almost right off the bat.
Influencer interviews: People are a lot more likely to buy a product if it's recommended to them by someone they are familiar with. Preferably, the said person should be someone with some level of authority in the field. For instance, Bill Gates or Linus Torvalds talking about a piece of technology will have people's immediate attention.
Be Original
The first 5 seconds of the video matter. Nothing captures people's attention more than something they have never seen before. And with millions of hours' worth of video content watched every single day, it's increasingly more and more difficult to achieve something both original and not over-engineered.
To be original, it helps to take a step back and look at what other people in the market have already done. It takes a bit of research to be able to shift through the same tired techniques directors have borrowed from each other over the years.

The point isn't merely to engage an audience – it's more to solicit a reaction. Challenge your viewers into buying your idea by leveraging all that fantastic footage lying around in your video library rather than reusing generic stock imagery and videos.
And since the internet is so large and so diverse, it takes quite a bit of effort and imagination to find something that will interest your viewers. It may take a bit of trial and error, research, and video content management, but you'll eventually get there.
Get to the point
Everyone is busy doing something. Most times, people won't be able to spare more than a few seconds to figure out what your video is all about before impatiently clicking away at the 'skip ad' button. You have about ten seconds to make a lasting impression on the viewer – to get enough attention to keep them engaged throughout the rest of the video.

After the first five to ten seconds, attention spans start to get lost in the noise of the viewer's thoughts, and chances are high they will click away. A few steps to getting your video on track involves the following, not necessarily in order:
The introduction: Your audience needs to know who you are. Introduce your company and tell them what you do. Your approach – fun and engaging vs. formal – depends on your company culture and the design team. Having faces to be able to associate your business with can do wonders in creating and deepening awareness of your brand.
The presentation: The content you have is only as good as you can deliver it. How you present your videos is essential. Create a feeling of trust with the customer, preferably by establishing yourself as an expert in the field you're working to improve. The digital asset management part of this regard is thus crucial. Rather than shoving everything in their faces at once, find ways to personalize the experience. The more they feel you understand them, the better.
Making yourself available: Like building trust, your audience needs to know you're with them throughout your journey, rather than leading them through the sales funnel and letting them rot.

A great way to make yourself readily available would be to provide your contact details at the end of the video or linking them to a landing page where the most frequently asked questions are discussed. This phase also includes being extremely responsive on social media and engaging your audience of course.
Automation will always be your friend. The less you can burden your sales team with, the fluid the lead's journey will be. One such solution to this problem is a fully-featured video content management system.
The bottom line
There's never a magic bullet that works for every single business out there, no matter how much we look. All we can do is use excellent tools available at our disposal – video marketing and automation tools, private video hosting services, online video creation platforms like Wideo and professional designers. Despite all the power video holds, it's nearly impossible to hack it all at once. Chip away slowly until you get it right. online video creation platform like Wideo.
Originally published on October 1st, 2018
, updated on April 23rd, 2019